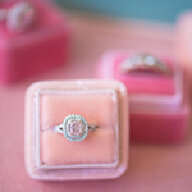 Joined

Apr 27, 2012
Messages

66
I have a little makeover to share! I had my double halo e-ring that had a moissy peachy pink for the center stone replaced with an ACC diamond that Schubach Jewelers had. It is uncertified, but a gorgeous gorgeous stone and just so happen to fit perfectly. I like to believe it was meant to be mine. My e-ring originally had no halos and a .40 princess cut diamond with a four prong tiffany head and then I sent it to Schubachs for a make over a few years ago. They did such a great job and have an amazing bench to work with. I loved it with the peachy pink moissy(I know, the devil!


) but I really wanted to get an ACC for it and luckily it worked out perfectly. I absolutely love it! It has a gorgeous high crown and glows so beautifully indoors. It is quite the fireball in direct light.

Stats:
1.79 ACC L VS1 7mm x 7.10mm
Platinum hand engraved size 6.5
Hand forged halos and amazing under gallery made with light pink diamond melee and white diamond melee
Don't worry, I won't hold out any longer...check out the photos! I included some family photos with my 5 stone ACC diamond ring with pink melee halo and my pink diamond with white halo ring. Also some photos with my bands that include white diamond half eternity white gold, pink diamond full eternity from Schubachs 14k rose gold, light pink diamond half eternity 10k rose gold, white gold antique family band, and hand engraved platinum band that matches my e-ring.
You may be wondering if I like pink

and obviously the answer is yes...yes I do.