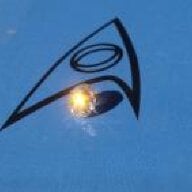 Joined

Apr 21, 2010
Messages

1,321
Today I had the pleasure of visiting Cullinan, the town the Cullinan diamond was recovered from! I was unable to do a mine tour as I had my 16 month old with me, but we did a historical tour of the town and took a few pictures!
Local legend has it that the farm the mine is now situated on was owned by Joachim Prinsloo, and diamonds were regularly found on the surface. He refused to sell to Sir Thomas Cullinan and when he died he left the farm to his daughter. Sir Thomas saw his chance and tried to buy it from the daughter, who refused to sell it without the knowledge and consent of her two brothers who were fighting in the Anglo-Boer War at the time (it should be noted here that Sir Thomas was English and the Prinsloos Boers). While Sir Thomas was trying to convince her to sell the farm to him, he deliberately poisoned one of his cows and requested permission to bury this cow. He then kept a sample of the soil they dug up for analysis, so when the war ended he knew exactly how much to offer for the farm, and once he owned it, where to dig!
After his purchase in 1903, Sir Thomas Cullinan appointed Thomas McHardy and Fred Wells to manage the mine. Two years later, Fred Wells was doing a routine site inspection when he noticed something shiny on the opposite side of the pit. He was lowered 9m to a section of kimberlite and could clearly see something sticking out. He tried to remove it with his fingers but was unsuccessful, so he then pried loose the diamond with his pocket knife, breaking the knife in the process!
Sorry about the iPhone pics, but this is literally where the diamond was found!
He and Thomas McHardy took it to Sir Thomas Cullinan, who believed it to be just an ordinary crystal, and chucked it out the window! This window!
It remained there until next day when a diamond expert came to have a look at it and found it to be a diamond.
The was bought by the Transvaal government for £150 000 and they then presented it to King Edward VII for his 66th birthday, and you know what? HE DIDN'T WANT IT! Winston Churchill had to persuade him to accept it. Ungrateful git. King Edward VII sent the stone to the Asscher brothers, and I'm sure you all know the rest of the story and how the 3106ct diamond was then cut into nine smaller diamonds. What you might not know (although, this is Pricescope, so you probably do

) is that the Transvaal government bought five stones and then later presented them to Queen Mary. The Transvaal government bought the Cullinan twice and gave it away twice! And Queen Elizabeth hardly wears them, because apparently they get in the soup.
Anyway. I had a fun morning! But sadly I didn't see any loose diamonds on the ground waiting to be picked up.