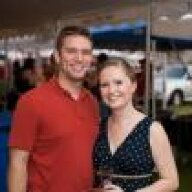 Joined

Jun 18, 2012
Messages

28
The Background Info:
First, you need to know that I love to build things. Models, furniture, replicas, gadgets, you name it. Ever since I met my fiancé she has helped me finish all of my build projects. The running joke is that I can never finish any of them without her help.
The Location:
Every year her family rents a beach house for the weekend in St. Petersburg Florida. Since one of our first adventures together was on a beach I felt this would have been a great location to propose right before the sunset.
The Idea:
A few weeks before this trip I started building a new project. It would involve a pedestal that would hold two "keys". The keys would be made of acrylic sheets that would fit into slots on the pedestal in an X formation. There would be markings and glyphs on the keys that would spell out the message "WILL YOU MARRY ME?" while they crossed each other. To take it a step further, the setting sun would shine light through the keys and cast a shadow of the message on the sand at her feet.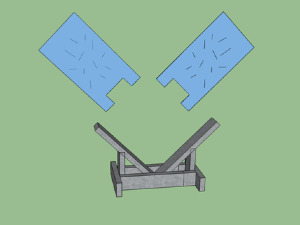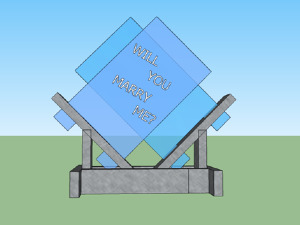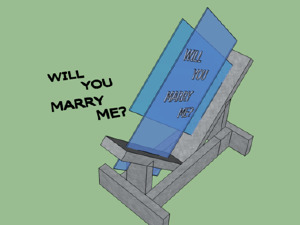 The Setup:
I built this thing right in front of her. When she first asked me what it was I told her it was a prop from a sci-fi story. This was enough to make her completely not interested in it during construction. While the keys are apart the message cannot be read. This would keep its true purpose safe until it was time to pop the question. Once finished I tested it and made adjustments to make sure everything lined up perfectly. The only thing that was out of my control was the weather and I prayed for it to be sunny that day.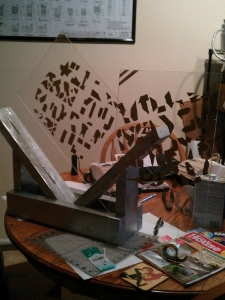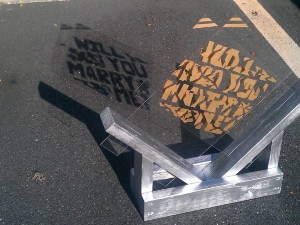 The Big Day:
The weather for the big day was scattered thunderstorms with a 40% chance of rain. This had me extremely nervous. We arrived at the beach and had bright sunshine through the morning and early afternoon. By my calculations I would need to propose at 5:00 pm in order for the sun to be at the correct angle to read the message. My fiancé decided to take a nap around 4:30 pm. During this time I had sunlight, but a very large cloud was closing in fast. I had to take the chance and do it now. I asked her family to wait 10 minutes, then wake her up and tell her I found something amazing on the beach that she would have to come see. They would be following her with cameras so they could videotape the entire proposal.
I set everything up on the beach. The sun wasn't quite perfect but it would have to do. They eventually came down the boardwalk and I asked my lady to kneel down beside my project. Her family remained behind her and continued recording. I told her "We are going to finish my little project now, but I need your help." I stumbled over a line about her helping me not because I couldn't do it on my own, but because I didn't want to do anything without her. She took one key and I took the other. On a count of 3 we both inserted the keys into the pedestal. I had to tilt the entire thing over to line the message up for her, but she could very clearly read the shadow.
Her hands covered her mouth and I could tell that tears were welling up in her eyes even though she had sunglasses on. I pulled the ring box out of my pocket and asked if she wanted to stand up for this part. She shook her head no. I opened the box and asked her to marry me, and of course, she said yes. Everyone started cheering, it was the happiest moment of my life.
(Sadly we did not take many pictures during the actual proposal)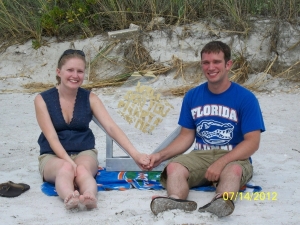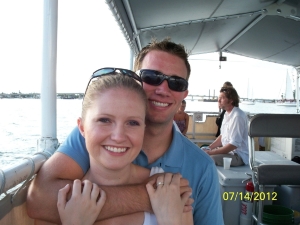 And of course, her beautiful ring (Blue Nile Signature AGS 000, E, SI1, .53 carat). She is extremely happy with it, saying it is more beautiful than anything she could imagine: