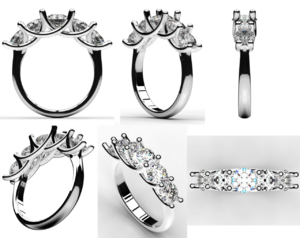 A few months ago
@SandyinAnaheim
listed her CBIs for sale - from her newly made DK necklace project. They were beautiful and I carefully considered them.
CBI
is not cutting stones in the .36 to .38 range right now so I knew I needed to jump on these if I wanted CBIs under .4.
BTW - Sandy is the most patient and kind seller. She is a truly special person - in part due to her dedication to animals and in part due to her spectacular personality. But I digress.
Sandy sent the necklace to Wink and he unmounted the CBIs. Wink (what a great guy )assured me the 4 CBIs I was considering were in perfect shape - like new. And that they would look gorgeous in a 5 stone ring. So I purchased them from Sandy. The specs and diamonds below.
.362 J VS1
.
385 E SI1
.386 H VVS2
.386 J VS1
But I wanted a 5 stone ring. With a slightly larger stone in the center. Just to have a little different ring.
Some of you may recall that
@whitewave
upgraded her .64 to a larger stone. Wink sent that .64 off to AGS to have it examined. It came back as perfect. So I bought that one from Wink (thanks
@whitewave
for your special care of it.)
So now I await my 5 stone ring from
CBI
. The fabulous Layla designed it and I cannot wait. I have a Wink video of the 5 stones together that I will find and post. I'll also post the report of the .64. Thus far the
HPD
service and assistance have been phenomenal. Wink and Layla are the best!