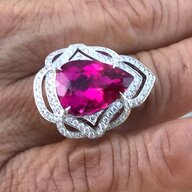 Joined

Dec 26, 2017
Messages

1,122
Fabergé were the world renown jewelers to the Czar of Russia. The family had to flee Russia during the communist revolution and lost control of their name to an American perfume manufacturer.
However in 2008 the family was able to regain the rights to use their name for jewelry, and teamed up with a German master jeweler to reinvent the Fabergé brand of jewelry. To be honest I'm not sure how much hands on involvement the Fabergé family has with this new endeavor, but it sure makes for a great story on their
website
I thought this might be a good time to show off the bright and sparkly Fabergé pendant DW found at an estate jewelry store late last year. It's a 4.30ctw egg shaped diamond and blue enamel pendant by the new Fabergé. The egg measures 25x19mm and the workmanship is superb. It is marked 24/25 so likely it's part of a limited edition.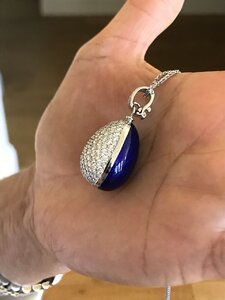 The back side of the pendant is a gorgeous deep blue enamel.
The front side consists of 4.30ctw of E/F, VVS diamonds that sparkle like crazy. I have to take photos in deep shade otherwise the light reflection just blinds the camera.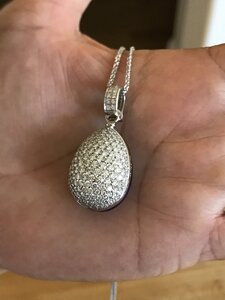 This is the best photo showing how the individual diamonds can sparkle depending upon their angle to the light source.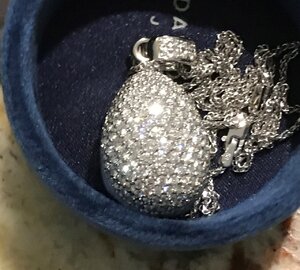 A neck shot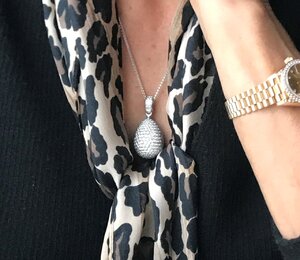 This is what happens if DW doesn't turn away from the light when I'm taking a photo.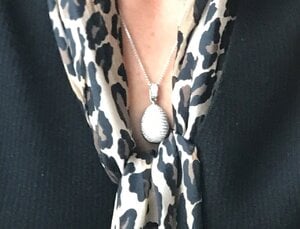 Last edited: