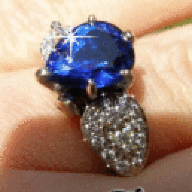 Joined

Feb 27, 2006
Messages

935
Well it was one year officially from the first time we went ring shopping and my birthday. It was miserable all day, were having a typhoon in NJ, still! I was kinda down in the dumps that we couldn¡¦t do anything for my b-day, we were supposed to have a picnic!! ƒ¼ I found a salt water, gigantic 75 gallon tank on craigs list for $250 a steal, so we went to the other side of the state to get that, it was my birthday present for my b/f. We were on our way back from picking up the fish tank and b/f started talking about last year.. Yeah I really screwed up last year. I thought he would have planned something and he got hotdogs at the windmill and I started balling my eyes out that I was disappointed and didn¡¦t want to hurt his feelings (last year) He said, yeah, then I took you ring shopping to smooth things over¡K I said yeah, to shut me up and look at shiny things at Zale (Yeah I know bad, but it was just to get an idea¡K and the only place open at night! Lol
So, he mentioned I hope this year has been better, I said yeah I love the fish tank..
Anyway, we were in a rush as usual, late to go out to dinner with my parents. And he said I got you a little something, sigh I guess I just have to give it to you later.. We got to Spano¡¦s, oddly enough a couple businesses down from where we first met and we sat down at a booth and toasted with wine to my 24th birthday. Then b/f turned really quickly toward me and says nonchalantly, Hey, what would you say if I asked you to spend the rest of my life with you? I looked around awkwardly and said well I would say yes¡K.. (Fully knowing where this was going.) He said well then will you marry me? (I can¡¦t even remember is such a blur) I said what?!! I thought it wasn¡¦t ready? Oh my god, I can¡¦t believe it, holding my mouth in shock. At this point my mother is like what did he say?!! What did he say?!! And he opened the box and then she was like OHH!! Lol I was crying and my parents got all teary eyed. Even my father who is a big strong German man and he never crys! My mom was blown away by the ring and never thought she¡¦s be apart of the proposal! I still can¡¦t believe it!!!
It was public, yet private!! The best of both worlds!! I was about 8PM and only one other party at the restaurant. My FI asked for my father¡¦s permission upstairs before we went to dinner, when they went to look at the menu online. I had no idea, it completely caught me by surprise!! I was shocked and my mother said and here is a girl that always says you can never surprise me! I said I know he did it so well. Then he went into the yeah, the casting delay was a bs story.. I said I can¡¦t believe it, you a$$hole!! Laughing so hard! And he said I even had it for over a month!!! He got it on March 10th my Mom¡¦s b-day and he was going to do it that night at dinner, but it didn¡¦t feel right. He was teasing me that it was always right next to me where ever we went!! I was in the console on his truck and even in his tool box at one point. Just where I thought he¡¦d hide it!!!
He was so paranoid for the long month, he thought it was going to get out. He showed practically everyone the ring. He said didn¡¦t you find it suspicious that I have been locking my truck everywhere??.. I said no!
It gets stranger!!! We called his mom and she gasped, in disbelief, that¡¦s that same exact way his father proposed to me, on my 21st birthday with the same exact words!!!! It was weird being FI never talked to his parents about that stuff. I guess it¡¦s just like the old saying goes the apple doesn¡¦t fall far from the tree!!!
Well without further ado, pics!!!
I¡¦M ENGAGED!!!! 4-15-07