Hi ladies..
I need some help and suggestions on a 0.7 cts (each) emerald cut eternity band...
I'm a size 4 ring size and not the most graceful lady... I manage to damage a lot of things!
That said, I'm debating between a 3/4 or full eternity band and was wondering a few things:
1. Are the larger stone eternity bands uncomfortable? I'm leaning more towards the gallery setting as per photo below.
2. Have any of you damaged any of the stones in your eternity band?
3. For this size, do you suggest a full or 3/4 eternity band? For comfort, aesthetic, and practical reasons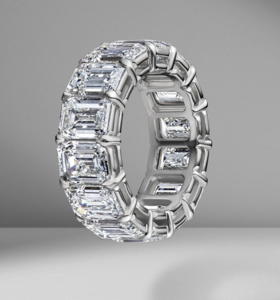 Thanks so much for all your advice and suggestions! really appreciate it!