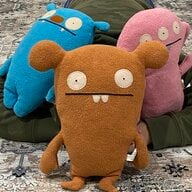 Joined

Oct 24, 2012
Messages

11,560
I had to come by to awe over how many diamonds you are holding!!

My mom keeps telling me I need to because she has so many earrings for me to borrow, but I'll admit I'm a big baby when it comes to pain, and it's getting the courage to sit in that seat as an adult while someone does the piercing! I also had an allergic reaction to the studs they put in the first time and couldn't figure out why. Now, I suspect it was nickel!
Girl seriously. Four words. Sterile sea salt spray. And platinum. Ok. Five. I got my ears pierced for the third time when I was over 40, and the first time they successfully healed. So glad I did. Now I get bling in my ears. Worth every second of the pain, even as a person with a suuuuuuper low pain threshold. You can do it!!! Then you get wear yssie-style glamorous earrings. If her earring collection doesn't inspire you I don't know what would. Ok sorry for the jack. Back to our regularly scheduled programming.