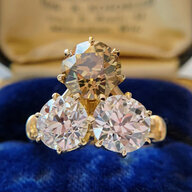 Joined

Jul 23, 2012
Messages

19,168
I have set myself a personal goal of achieving a rainbow gem collection. One that had always eluded me was orange. Orange is my favorite color but I find it quite boring in gemstones. The only way to make it interesting was SIZE !
I came across an extremely large imperial topaz on eBay. Large and incredibly windowed. I had it recut and lost more than half her size. This was not ideal. But you can't put that toothpaste back in the tube.
Also on eBay, I found this gaudy baby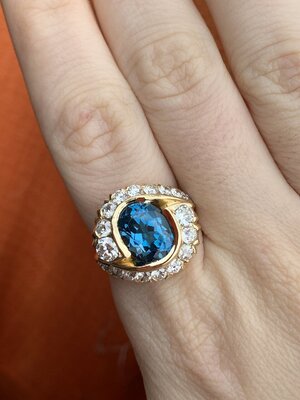 I knew the diamonds would be nice and the gold worth scrapping so I bought her despite being less than attractive. *cough hideous*
I've been told I have the imagination for this type of thing lol
I sent my new stone to dk with a very specific design idea in mind. I it took very few cad modifications to get the right look. I was very pleased with that as I can be very picky and it can take half a dozen or more
I'll post the original and the approved :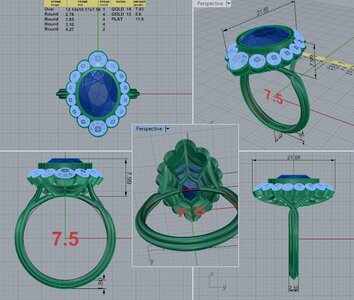 The shank was particularly important to me. It seems rather simple but I wanted a tri wire shank thank that did not have that traditional "bar" where the shank split off. I found those overdone and looked uncomfortable. My idea for the crossing over design was executed perfectly as always. I also wanted the spider webs because I have found I like my rings to be quirky.
I did the ring in 14k white gold because my sapphire ring is so GD heavy- I wanted this to be light and wearable and that was achieved 1000%
I am thrilled with the outcome though it is a tad hard to photograph. The color is a nice sherbet orange and due to her color and spooky nature I have named her Jack (the pumpkin king
)