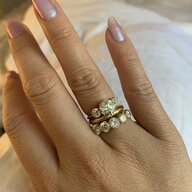 Joined

Jun 18, 2020
Messages

36
Sharing my late Victorian three stone and the gorgeous five stone Norah CVB made to match her! I just counted and I realized I'm wearing 50 tiny claws on one finger, ridicuous.
My center is a 1.57ct J SI1 OEC flanked by two .40ish I VS/SI1 OMCs. The center has eight thin and very tiiiiny claws and each OMCs has its own 6 prongs (maybe claws once but now are rounded from wear?).
I love her to death BUT one snapped prong later (snagged on my pants!) and a nasty indent made by a shared prong platinum ring, I realized it's just too delicate for everyday wear. The prong was re-built by someone Lang Antiques works with but it just doesn't look the same.
I'd been admiring the Norah for ages (so many lovely PSer threads and photos!
HS4S_2, Gussie
and others!) and, with some convincing, my lovely husband agreed to have one made for my BD.
My Norah is slightly graduated (4.2-4.6mm) and we decided to match its shoulders to my engagement ring (usually has a V shape). Caysie and my husband did a lovely job and were able to repurpose 4 stones from old earrings I never wear!
All the claws do snag from time to time, but I do feel much more secure when I'm wearing the Norah vs my ering. Maybe ering will get re-set in the future but I hope I can keep the original setting for as long as possible!