After stalking the 5 stone thread here, trying to decide on the best carat size for a five stone ring to fit my 6.25 finger, i need to leave the shadows of a lurker and ask for some input
I've decided to finally get a
BGD
open gallery ring, to mark the birth of my son. (It was a pretty dire situation so I'm getting myself something VERY nice, as a welcome home present after being in the NICU for 6-8weeks.)
I really want to get full finger coverage where you can't see the band much, but still have a comfortable ring.
Would you recommend:
1.5 ct (0.311 I, 0.318 J, 0,33 J, 0.314 J, 0.311 I)
or go big with a 2 ct (0.4s in G-H)
There aren't any 0.35 stones in
Brian gavin
's current inventory, so splitting the difference doesn't look like an option.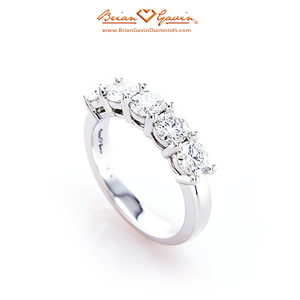 Any input would be greatly appreciated!