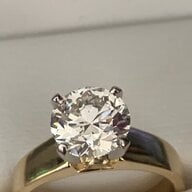 Joined

Sep 19, 2019
Messages

42
Hello Everyone,
I am planning to buy a anniversary ring on my wedding anniversary which is next month. I am debating as to what is a good buy 5 stone wedding ring or eternity ring?
I am looking for a 2 carat that Costco has which is a decent price
Has anyone purchased ring from Costco before? are their things better quality? reviews look great and so does the price as compared to other jewelers. I have heard mixed reviews on eternity rings that it hurts in between fingers if its a big size. is that true? The width of this ring is about 3.4 mm. is that considerable size on a finger? My ring size is 7. I don't want it to look too tiny.
5 stone wedding ring what I like is from
James Allen
. This ring is also approx 3.4 mm. Not sure how this will look on size 7 finger.
SKU 60564 - The classic style of a five stone ring with a contemporary appeal, the trellis ring offers a side profile that is stiking and elegant. Slender prongs cross over one another to create a backet for each hand selected diamond.
www.jamesallen.com
Help me decide which is a good choice. Any other places which offer decent pricing? If anyone of you own rings this type please share pics for reference.
Thanks everyone for your input.