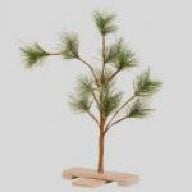 Joined

Jan 18, 2012
Messages

778
2022 is my Jewelry Wardrobe Overhaul year, and also my 10-year anniversary! I'd wanted a large diamond for a while, we saved (and I decided I'd rather have a big diamond than spending that money on a newer car when my little 70-mile-range EV works just fine for my commute, thankyouverymuch!), and although this pushed the budget a leeeeeeettle bit, I am over-the-moon happy. Introducing... Honey! (Has there been a Honey ring?)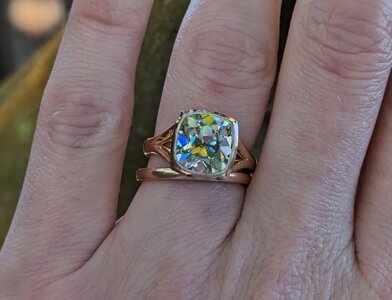 Bees were part of our wedding theme, and have a special place in my heart, growing up with an avid gardener (mom) and dad's beehives in the back yard. I learned early to distinguish between honey bees (helpful, gentle) and wasps (a$$holes); even my young kids know the difference now. We support pollinators by planting natives, mowing the lawn we inherited when we bought the house no more than 4 times a year (this is part laziness), and allowing plants like clover, dandelions, and oxalis free rein until we get a chance to more deliberately groundcover with natives. Please never use glyphosphate herbicides; we need bees so badly. (Stepping down from soapbox!)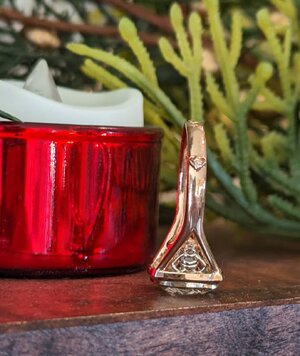 Oh, you're here for the JEWELRY? Ahem.
The diamond is a 4.16 O/P VS1 with faint fluorescence from Jewels by Whitney on Instagram (she was fab, so patient with me!). The girdle is faceted, so it may be an antique stone which got rehabbed, or a modern-cut in an antique style. It's 9.94x9.29x6.31mm, 67.8% depth and 51% table, with faint fluorescence. When I opened the box I was at work and definitely said something NSFW because this is a BOULDER. (Luckily, I have an office with a door.). The body tint is mostly yellow but with a little brown and a hint of green, so there was much contemplating about whether the color would be OK or not. (I took 156 pictures; I just counted.) I had a really specific plan for the setting, with no flexibility in metals etc, but also a really specific request for diamond specs (as big as possible, within budget, O/P at most, with good symmetry, and nonzero fluorescence). I'm SO glad I took the chance and moved forward!
Showing body tint in the car: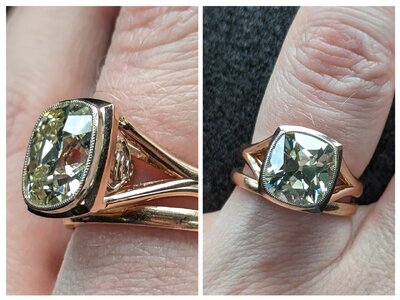 Faint fluorescence (super-powerful UV flashlight, I can't see the fluor in regular sunlight, unlike with the VSBF lady at the bottom)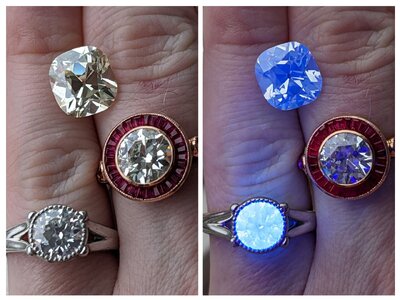 She is bezeled in unplated 14k white gold (I went with David's opinion about which metal would work best, given her body tint, as the inner bezel), with the rest of the ring made in 18k rose gold. The little gallery bees are also 14k white. I'm smitten.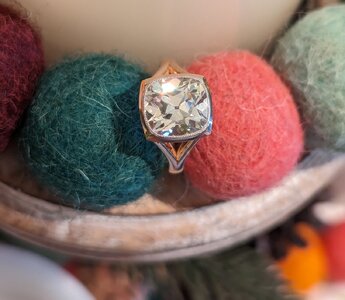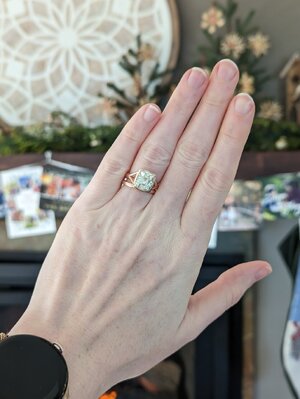 The ring itself? Is. Very. Comfortable. Like, "oh, sure, this 4ct thing fits perfectly into my lifestyle of wiping 3-year-olds' bottoms and occasional professional tasks that ALSO involve undesirable secretions". I have to go in for a shift at work at 3pm this afternoon and I'm debating wearing this ring... I am confident it will fit under rubber gloves just fine, but it is a little flashy (i have two flashy jewelry friends at work, though, and one of them is working tonight too... we shall see
). Sometimes I look at it and think it's a bit too big, and yet, if it doesn't actually impede my activities-of-daily-living, I am sure I will get used to it very quickly indeed.

I've only ever worn shallow(~55% depth) transitional rounds, so the 6+mm depth of this one made me nervous, but it turns out just about anything feels fine in a cathedral bezel!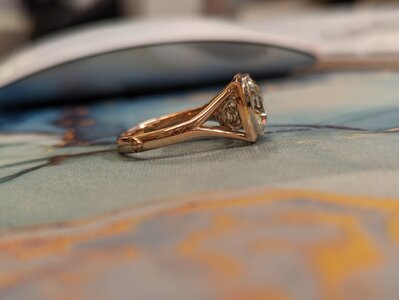 Gratitude to all the PSers who helped with the design on my
RT thread
for ring design and the
thread for diamond advice
-- especially
@Mjay
's idea for the secret shank bee and
@emmy12
for a hidden PowerPoint feature I didn't know about (I do all my jewelry design in ppt...

) and side-bee shape. David Klass is an absolute master of his craft, and I am so lucky his head didn't explode when in, like, November, I introduced the idea of 5 custom rings I simultaneously needed his help with.
That he's so comfortable translating detailed inspiration images (yes, and PowerPoint slides) into actual jewelry, and so patient with the iterations it takes to have things turn out perfect, makes him a huge asset to the jewelry world. There's not one thing about this ring I would change.