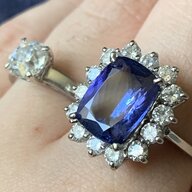 Joined

Oct 24, 2020
Messages

11
Hi fabulous bling friends,
I've been a long-time lurker, finally working on my first project with David Klass! Fiancé got me an upgrade since we've been engaged for almost 5 years now – covid derailed our plans, and we haven't set any new ones yet. We're resetting my original diamond (0.35ct G, SI2 OEC) into a white gold sliding bezel pendant. David's working on the CAD right now, hopefully it'll be ready in time to be a birthday present from my fiancé in January. I'll come back and show you all when it's done, of course!
My dilemma: what length chain should I have David put it on? David suggested 18", but I'm worried that might hang a little too low on me. I'm in my late 20s, average height, and on the slim side, so I was thinking 17" might work well? I've attached pictures of me wearing both 16" and 18" chains with small pendants (the larger one is ~6mm across, which will be the size of the new pendant). I'm pretty certain in-between is what I want/what would look best on me. But I'd love some of your more experienced eyes to take a look!
Thanks <3
(excuse the cami and bare face, WFH has spoiled me!)