Hi all, stumbled across this website and wow the amount of knowledge here is great. I didn't know there was so much to know about diamonds, really opened up my eyes!
So I'm looking at a 3 stone (round diamond flanked by side trillion diamonds) setting for an e-ring. I'm reading through the tutorials right now and looking for a 1-1.2 carat, but in the meantime, my gf's sister told me about a setting that she liked and I contacted the jeweler.
Is there a name for the setting?
He mentioned that the setting (14K Gold) would cost around 1550 to 2000 USD (2000 to 2500 CAD, since he's in Vancouver) depending on the stones (she wants the trillion diamonds, 0.25 - 0.3 carats depending on size of main stone, instead of the 3 separate ones), and there's an additional $400 for diamond insurance for the setting process since I will be getting the main stone elsewhere. They will also charge an additional $230 to change the design of the ring (she would want thinner prongs, slightly higher setting on the diamonds).
Does this sound reasonable? If not, any recommendations on any jewelers in the Seattle area? What about online? My only hesitation with using someone else is if they are not able to accurately reproduce the setting (e.g. height and angle of the side trillion diamonds) since as we all know attention is in the details!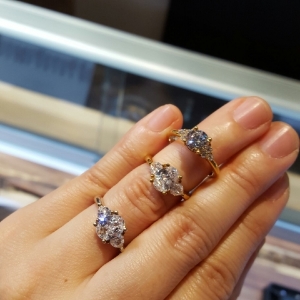 Top one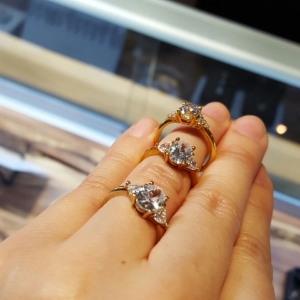 Top one again
Thanks for any insight!!