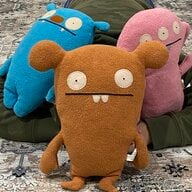 Joined

Oct 24, 2012
Messages

12,148
Introducing my OEC. Thank you to Adam at Old World Diamonds.
GIA OEC
K, VS1
3.04 carats
This stone is stunning, bright, so lively, won't stop sparkling. It has super sharp facets that appear extremely symmetrical to my eyes. The petal pattern in the center and diamond shapes all along the edges are extremely clear. I constantly see the facets flash at me as light hits the stone. Adam said it is one of the best cut OECs that he has.
It took me quite a while to commit to this stone because it definitely had more color than the previous F, VS1 MRB I had. I was deciding between this one and a 3.29 I, VS2. The I was bigger and definitely brighter in all environments. In the end I had to go with the K because of the beautiful, symmetrical faceting, and liveliness of the stone.
The back story is here if anyone is interested.
https://www.pricescope.com/communit...tique-cut.219320/page-2#post-4035621#p4035621
I apologize in advance. These are all iphone pics. I suck with a real camera.
Next to my J AVR
under yellow lighting in yellow room