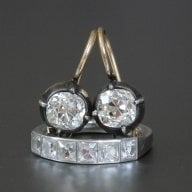 Joined

Nov 28, 2011
Messages

2,419
Dear PSers,
After all my threads about the OMC earrings, finally here are the pics
Thanks for all your advice during the purchase process!
I got an EGL (USA) report for them, here are the stats (they were not removed from settings, so carat weight is estimated at 1ct):
Measurements - 6.40 x 6.30 x 4.59
and
6.30 x 6.20 x 4.59
Cutlets - Large
Girdles - Very thin to thin
Fluoro - None
Clarity SI2
Color G-H
I'm absolutely in love with them. I probably won't wear another pair of earrings for at least a year

They are not the cleanest in some of the pics, sorry about that, I was trying to catch the light before the sun went down.
For the ear shot, I decided to go for a whole head shot -- to show the proportions and stuff. SO did not mind being included in the pic
That's us in Brighton Beach, New York, celebrating the purchase
Cheers all!
- Anya