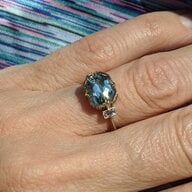 Joined

Nov 1, 2009
Messages

3,736
I have wanted a Montana sapphire for years. I decided to sell my diamond engagement ring to help offset the cost of starting my new project. I must say, I don't miss having a diamond for one second. I knew that no matter what Montana sapphire I picked, I wanted Caysie from CvB Design to do my ring. Her meticulous attention to detail is unlike anything else.
I learned along the way that shopping for a Montana is extremely difficult, they are a finicky variety. I ordered one from Gemfix but I did not like it in hand, their customer service was excellent though. I had my eye on one from Missouri River Sapphire Company but I wasn't sure about the color. The photos showed a silvery sage green and I just wasn't sure but the cut was spectacular. I decided to take a chance and purchase this since the return policy was good. I'm thankful I purchased it, the cut is phenomenal.
Stats:
2.65 Unheated Montana Sapphire
8.58 x 6.81 x 4.8 mm
Extremely clean
Original rough was 7 carats and was cut by Dan O'Neil
I will attach some vendor pictures.