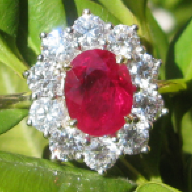 Joined

Aug 15, 2004
Messages

5,537
This is the stone I was considering when I asked the question about zoning. I decided the only way to see if it was really as beautiful as the vendor picture. This stone has been listed on Tan's site for quite a long time. I think the reason it has been passed upon by many is that the video shows considerable zoning from the sides. In fact there are areas where the stone looks completely clear! I took a chance and am incredibly glad I did!! I love the stone!! Here are the stats:
Blue Sapphire
Weight: 2.55ct
Shape: Oval
Origin: Madagascar
Color: Royal Blue
Clarity: VS 2
Treatment: Heated
Size: 8.5 x 6.1 x 5.5 mm.
There is no cert, and at this point I doubt I'll get one. I do not know if it has been diffused but the color is so amazing that I'll keep it regardless. I'm attaching the vendor picture, one I got outside, and a picture of how I plan to mount it.
Please give any comments or criticisms. I've been tried by fire here, so I hope for complete honesty.