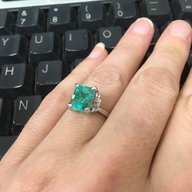 Joined

Jun 8, 2018
Messages

24
Hello,
I've been lurking for a few months and finally got myself a beautiful forever ring! I divorced 1.5 years ago and missed my quality jewelry. My ex had bought me all my real jewelry, so earrings, wedding band, engagement ring all went into a box after the divorce. I have a new boyfriend (he's wonderful), but he's divorced too and said he'll be ready for engagement in a few years. I realized I don't want to wait that long to have a ring on my finger. I don't feel very passionately to get engaged, I have the man I want and our commitment is strong...but I don't like feeling judged by strangers. So I went looking to buy my own left hand ring. I wanted a quality jewelry piece NOT associated with a man. A piece that I could wear forever, regardless of my relationship status. Something I could pass to my daughter that wasn't tied to a relationship I had with a man that was not her dad.
And I have a job. A year after the divorce I am financially recovered. It felt empowering to buy my own jewelry. Not wait for a man to "surprise" me with jewelry and spend my time hoping I would like it whenever he decided to gift jewelry to me.
I initially wanted a diamond. But man o man are they expensive! Then I remembered I had a loose Emerald sitting at home, my mom had purchased it but never set it before she died.
I took the stone to a jeweler to have it appraised. Wow, the appraisal for the stone came back valued more than the cost of my engagement ring! This stone needed a setting, and it needed to be on my hand!
That's when I found Price scope.
And I became addicted.
And I decided I did not like any settings at the Mall chains, I liked all kinds of settings that mall chains don't carry. But pricescope gave me courage to have a custom setting created based on the online pictures!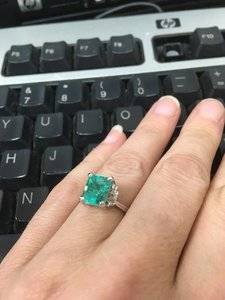 And now it's on my hand and I lovvveeeee it!
So thank you! Experts, and gemologists, and people that know about fine jewelry! I am hooked to colored gemstones now...this wont be my last custom piece!