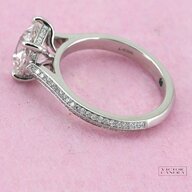 Joined

Nov 5, 2021
Messages

61
Since this community was so helpful to me in creating the perfect engagement ring, I wanted to post the end result! If you're curious about the process in how I got here, you can have a look at this thread:
https://www.pricescope.com/communit...g-designer-hannah-vs-kirsch-vs-canera.270595/
. If you're specifically curious about an emerald surprise stone, then this one will be helpful:
https://www.pricescope.com/communit...lity-natural-vs-lab-grown-vs-simulant.272333/
Starting with the diamond, I chose a H&A cushion from Brain
Gavin
(
https://www.briangavindiamonds.com/2.180-i-vs1-select-cushion-gia-2185861629
): 2.18ct, 7.52x7.52x5.24mm, I color, VS1 clarity. BG gave me the option to obtain an AGS certificate in addition to the existing GIA certificate, which I opted for, and they graded it as AGS Ideal 0 across the board for cut, light performance, polish and symmetry. The process with
Brian Gavin
was really wonderful and I can't recommend the company enough. I should note that I did start with Victor on the diamond, but he was not able to obtain a H&A cushion at the time, so agreed to use an outside diamond in my specific instance.
Moving onto the setting, it took me quite a while to end up not only on Victor as the ringmaker, but also on this specific design. However, I'm very, very pleased with both of my decisions, which were heavily influenced by all the help I got from this forum. This is Victor's "Solitaire with Knife Edge Band" (
https://www.victorcanera.com/product/10915/solitaire-with-knife-edge-pave-band
) in platinum with 0.3tcw of melee stones.
At arm's length, it's difficult to make out how ornate this setting actually is. It wears much more toned down than a setting with bright cut/u-cut pave. However, when you start looking at it more close up, it's an absolute masterpiece and the detail really comes alive. The pave work is unbelievable; I can't stress this enough. There are many threads on here in which people claim Victor is the pave master (especially on halo settings), but I feel like my setting takes it to a whole different level because the melee stones are half the size of most rings he does! It's really incredible work from him! In certain lighting situations, the pave lights up and sparkles like crazy, but is often more subtle and unnoticeable. This effect gives the ring a lot of a personality.
I was very concerned about this being a knife edge band, as I don't usually like this look at all. However, Victor assured me it was a very shallow knife edge and it would wear like a more standard band. I actually asked him to change this part of the design, to which he declined becasue he felt it would ruin the overall style of the ring. He was 100% correct and I'm very happy I trusted his judgement and went ahead with it. It definitely adds an interesting dynamic to the overall look of the setting. In fact, my fiancee will be doubling down on the knife edge aspect and has opted for a wedding band from Victor that will match the setting. She says this ring feels no different to any other non-knife edge ring that she has worn, so if you're concerned about a VC knife edge ring, don't be!
Finally, you'll note there is an emerald surprise stone (which is my fiancee's birthstone). My plan is to put my birthstone in her wedding band, and then my band will have both of our birthstones in it. Although this feature seems rather trivial, apparently emeralds are not overly durable gemstones, to my surprise. Check out the other thread I linked to if you're curious, but I REALLY had to work with Victor to find an acceptable solution, as he did not like this idea. The short story is that if you're using an emerald for a surprise stone, you'll need either a lab grown one or an unoiled natural one. I had some amazing help from the PS gemstone community, so a hat tip to the folks over on that part of the forum!
Although this process was extremely difficult and grueling for me personally (as all I had to go off of was that my girlfriend likes cushion diamonds), all the time spent in the trenches was worth it becasue she absolutely adores the ring. I've shown her some of my other ideas and she still maintains that everything about her VC ring is perfect and there is nothing that she would change. I do owe this community a huge thank you for helping me along the way, as this process would have been exponentially more difficult without the advice I got here! I also owe a big thank you to Victor for being a steady hand throughout the process and putting up with my OCD personality traits.
Anyway, let's get to the pictures!