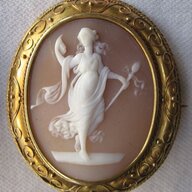 Joined

Apr 17, 2002
Messages

3,618
Here's another thread about an old diamond with a chip. I don't think I ever posted about it on PS--if I did, I can't find the post.
A decade ago I bought a c. 1920s diamond ring, a platinum setting with single cuts, rectangular sapphires (I assume synthetic), and a half-carat or so center stone. I assumed it was a transitional cut because of the culet and the blocky checkerboard pattern. The diamond had a big chip, so I got the ring for essentially the price of the setting, intending to ditch the diamond and set a colored stone in the setting, but I liked the patterning of the diamond so much that I kept the ring as it was; I just had a jeweler rotate the diamond so the chip is hidden.
To me the table seems very big and the crown seems very flat, especially for such an old stone. But the diamond is bright and fiery, and to my eye very attractive.
Questions:
1. Can anyone say anything interesting about the cut of this stone?
2. If this were yours, what would you do about the gigantic chip? It's in the girdle and reaches down into the facet beneath and up into the crown. If I just leave it the way it is--embraced by the side of the setting, not directly underneath that beadlike prong--is the diamond likely to break further? (I've been wearing it often for a decade without any further damage.) Can it be repaired somehow, or at least smoothed and made safer, without changing the look of the diamond? Would it be expensive to repair it?
Here are some 11-year-old photos, taken with my long-ago camera: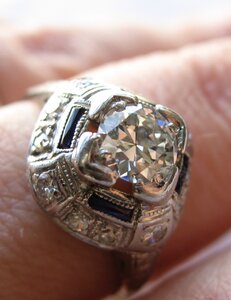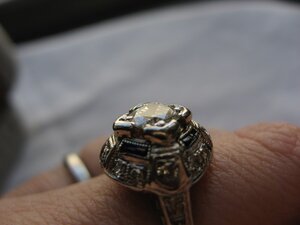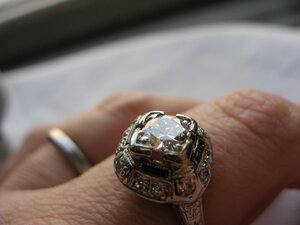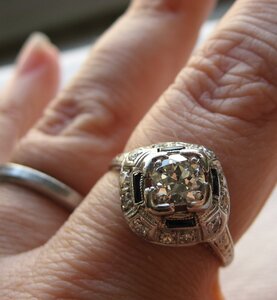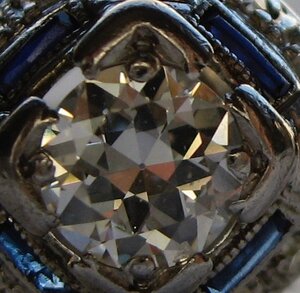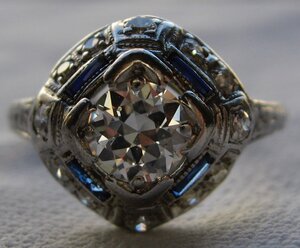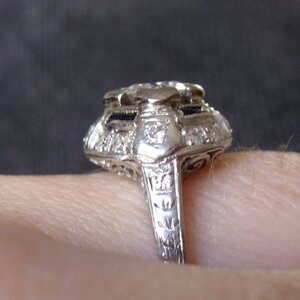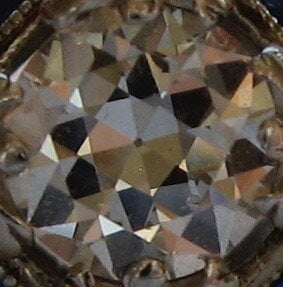 In this photo, taken before the diamond was rotated to hide the chip, you can see the chip clearly: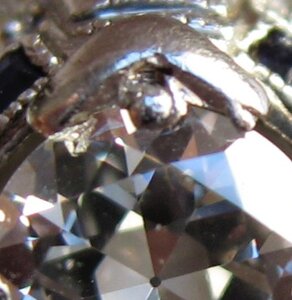 Here's the ring with my .73 J I1 CBI (I don't think they make I1 CBIs anymore, but I love mine!), in a setting from the same period: