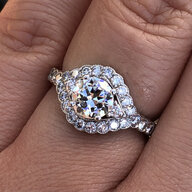 Joined

Mar 17, 2021
Messages

70
Hey everyone!
First time posting in MMD forum... I wanted to share my piece from Ouros Jewels.
This is supposedly a 1.89 ct M VS oval. It's 8.83 x 7.1 x 4.05 so a bit shallower, but it's not a spready stone because the crown is taller (I think?)
The cut was sold as an "old mine" (which I find some vendors tend to use interchangeably with "antique") oval, there is a tiny little culet, but the cut is quite confusing to me.
I feel that it's a bit warmer than an M, has slight brown undertones, and I can see some interesting inclusions under a loupe. The diamond isn't certed so I can't verify.
It's definitely not the best performing oval in terms of brilliance, but has crazy chunky fire and good scintillation, which I love in old cut stones--whatever cut this is

Either way... this was straight out of their inventory and not custom cut so I got it for a pretty killer price. I also had Ouros make the setting for me, which is inspired by a Stuller setting.
Pretty happy with how this turned out, especially since it ended up being less than some of my moissanite rings!
I wish Ouros would post more old cuts - I see some of their current inventory are cut wayyyyy shallow and I'm hesitant to get them to custom cut for me.