Joined

Dec 5, 2017
Messages

131
When I was first engaged we knew nothing about diamonds and ended up with a very low quality one. I wore it for 10 years, but I only ever saw the inclusions and poor cut. Since then, I've been on the hunt for a new ring. I've cycled through morganite, CZ, and three different moissanite rings. They were all beautiful but deep down I knew I wanted a diamond. I got a 0.3ct earth mined solitaire when I turned 40 and while it scratched the diamond itch it did not scratch the size itch.
I've had my eye on MMD for awhile now but they were still more than I wanted to spend. I also thought about upgrading my earth mined but even that was more than I wanted to spend for what I would get. I shied away from MMD mostly because nobody had an upgrade policy, but in the end it would still cost me less money to get something now, then get my dream size (2.75-3ct) in a few years than it would be to keep upgrading my earth mined diamond until I got to that size.
Of all the vendors I looked at, I really thought I'd go with With Clarity. Their prices seemed really good, but then I went back to the vendor thread in this forum and found
Ritani
. I went to the website and within an hour, pulled the trigger finally. It was too good to pass up. My stone is 1.62 ct, L SI1, XXX, 1.4 on the HCA. I was nervous about the inclusion but it was on the edge of the stone and asked if it could be placed under a prong. I honestly can't even see it. I was also nervous about the color; that an L would be too tinted for me but I love it and it is plenty white to my old eyes. Lower colors allow me to stretch my budget to get a bigger size.
Without further ado, here it is!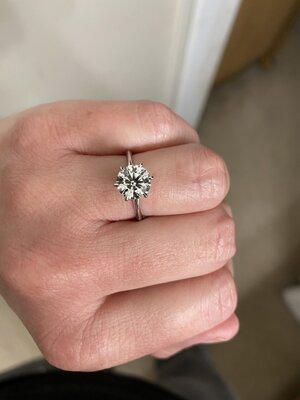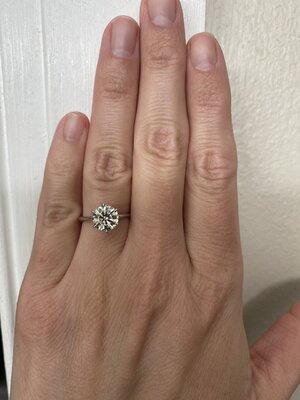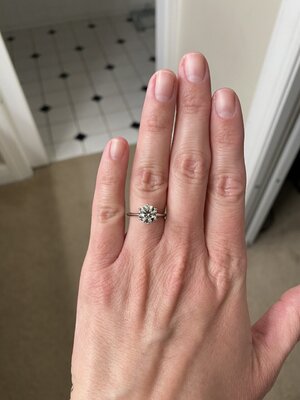 With my OG wedding band: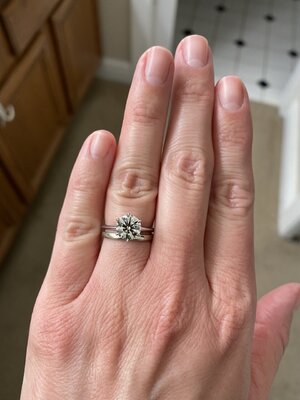 Here's where you can see the tint more prominently, against a cz eternity band: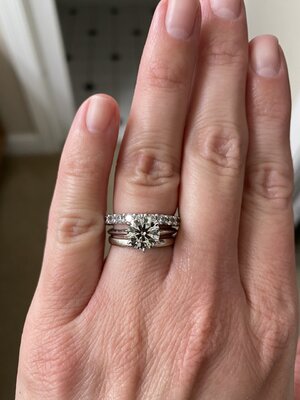 I am so in love with this ring. HIGHLY recommend
Ritani
!