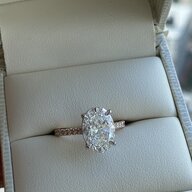 Joined

Jun 4, 2021
Messages

92
I am thrilled to introduce my dream TB. What I love most on this forum is to be inspired by so many stunning diamond jewelry and learn about specifics.
When I visited high end jewelry store, I face three issues; (1) I can't select specific color or clarity and (2) they can't remove extra diamonds from price even though my wrist is small and (3) over priced.
Given this, I asked several opinions on this forum about the quality of
WF
ACA
.
Now, I am over the moon with this incredible TB special thanks to
@miimac7
,
@glitterbomb
,
@RunningwithScissors
to empowering me to have this dream TB!
Also, I deeply appreciated everyone's valuable comments on my previous post. I am so satisfied by amazingly bright and extraordinary diamonds.
<detail of my dream TB>
ACA
Round Hearts and Arrows Diamond certified diamonds, 0.3- 0.33 carat each, a mix of D or E, VVS1 or VVS2 clarity.
**My first e-ring was D color(now it's earring) and got obsessed by icy white therefore I decided to keep this.
Lastly, during the process of order, Becca and Mariah was so kind and didn't feel any issue even though it was international order from Asia.
Can't wait to bring her to many occasions!