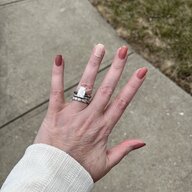 Joined

Apr 7, 2017
Messages

4,400
I've kind of done things backwards, but, in all honesty, it's taken me all this time to figure out the best way to introduce this extremely important, and sentimental piece; my wedding band.
She has appeared all over PS, for nearly a year, now, but she has always been referred to as my "WR".
Not anymore!
When DH & I were planning our wedding, we decided to incorporate our common heritage into our ceremony: Celtic/Irish. We wanted to inscribe something unique & significant that really described us, as a couple.
DH & I started this relationship on an uphill slope. We faced many challenges as a new couple; more than most experience in a lifetime of marriage. The odds were clearly against us, and rather than letting them tear us apart, we leaned on each other, built each other up, and grew closer, in spite of it all.
The phrase "Love Conquers All" really seemed to fit. So, I researched translations, and found one that worked perfectly!!
"Buann Gra' Gach Rud"
There are many interpretations and translations from English to Gaelic, and reversed. Most were more sexually suggestive, and that was far from where we wanted this to go!! The above translation was the most literal translation, and it translates specifically as: "Love Wins Everything". Reverse translation from Gaelic to English was "Love Wins Everything", and the phrase "Love Conquers All" was also quoted, so this was to be our inscription!
Inside both of our wedding bands is inscribed: "Buann Gra' Gach Rud", therefore, it is my pleasure to finally dedicate a thread to my beautiful "WR", and give her proper introduction!!
Without further ado, photos!!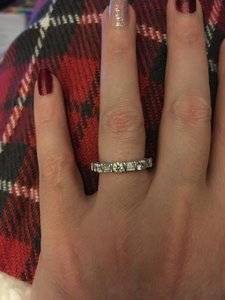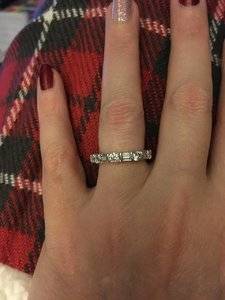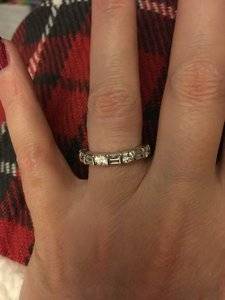 Her Stats:
14k WG
1/2 Eternity (Bar Set)
Milgrain & scroll detail on the open shank (to match my ER, Uisce)
8 stacked Baguettes
5 Rounds
Cttw: 1ct
Color: G/H
Clarity: SI1-VS2
It gives me great joy to finally, formally introduce her!!
Thank you for the opportunity to share with all of you!!