The seasons are changing and I'm beginning to feel broodier. The weather is cooling off and I'm getting excited to head back to my lair sipping on pumpkin spiced latte. That could be one of the reasons I'm finally ready to wear one of 2019 and 2020's trends, the serpent.
Featured Image is a Serpent Ring posted to SMTB by Hegemony Cricket
I did fall in love with a Bulgari Serpenti necklace spring of this year, but I've noticed that more and more pieces I've gravitated towards this season feature serpents in one form or another.
This trend shouldn't be too surprising as nature is one of the top themes this year and was a top look in 2018 as well. However, serpents are fast becoming a favorite of designers and consumers well into 2020. The animal represent transformation, knowledge and wisdom; something we can all use a bit of in life.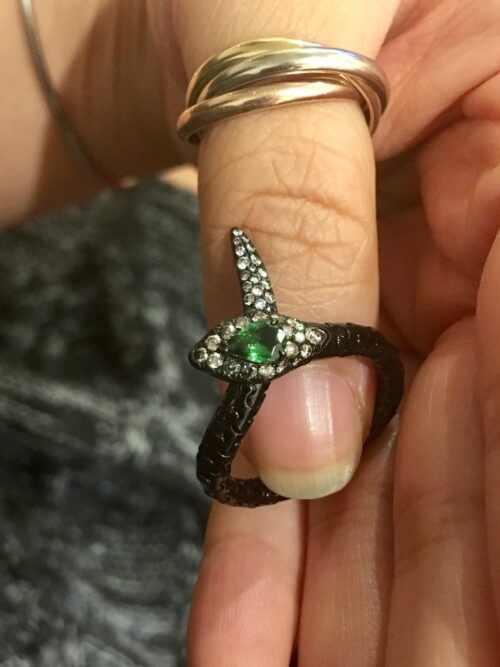 If you love this look, you should have no problem finding a piece just for you. Although this is a fabulous fall trend, the look is as old as the ancient world. Cleopatra owned multiple serpent pieces. Queen Victoria's engagement ring was a serpent. As you already know, she was a massively influential person on fashion (and the rest of the world) and that time saw an explosion of serpent jewelry. Therefore, you should not have a difficult time sourcing a vintage or modern piece of serpent jewelry.
If you're in love with this look, there are a few designers which will help you find the serpent jewelry piece of your dreams. 1) Alexis Bittar. I fell in love with one of his vintage serpent earrings. 2) Bulgari. The company has a line completely devoted to serpents. 3) Roberto Cavalli. Long known to be a fan of serpents, the design house regularly uses serpents in their jewelry designs.