PS Welcome - YouTube
All about PriceScope
Wed, 29 Nov 2017
Top 5 Engagement Rings Under $1,000
H1:
Top 5 Engagement Rings Under $1,000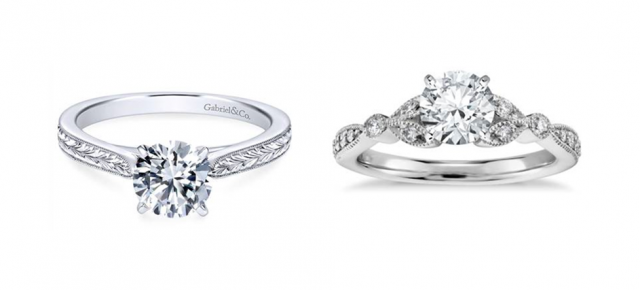 Top 5 Engagement Rings Under $1,000
It's no coincidence that engagement season occurs during the holiday season. We're all full of love and hope and getting down on one knee from October to February is a big business for jewelry stores. This is why we are inundated with jewelry stores rolling out the biggest, flashiest and more expensive engagement rings to show in their commercials.

However, the truth is, many couples are on a much tighter budget than the impressive-sized rocks jewelry companies use to reel them into the stores.

The reality is, many couples select smaller stones to stay within their budget. Yet, that doesn't mean that they have to sacrifice style along with their budget. Here we look at the top five engagement rings for under $1000. You'll notice that they pack quite a punch for their price and will make any bride-to-be happy to wear one on her finger.

A classic solitaire for a classic bride. This round diamond engagement ring is simple and timeless. A ring you'll definitely want to turn into a family heirloom. Classic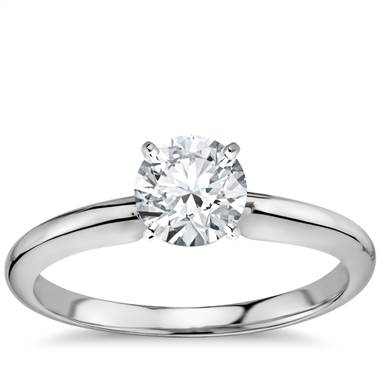 Classic six prong solitaire engagement ring in 18K white gold

at Blue Nile
We love a classic solitaire, but we also love a solitaire that ups the design stakes. This floral-inspired engagement ring is surrounded by a delicate halo which gives the appearance of a larger stone while simultaneously reflecting an insane amount of light.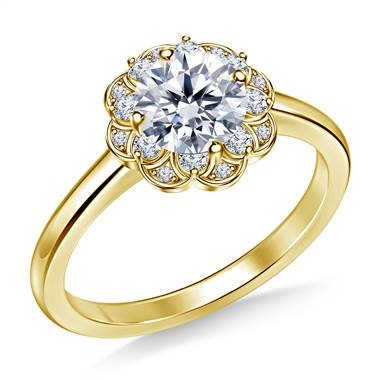 Floral halo petite diamond engagement ring in 14K yellow gold

at B2C Jewels
There will be no talk of sacrificing style when you have this hand-etched, solitaire engagement ring on your finger. It blends classic and vintage design elements to create a fresh look for modern times. Small but mighty; this ring will announce your engagement the minute you step into a room wearing it.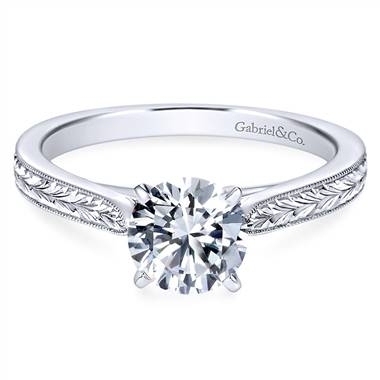 Straight milgrain and hand etched engagement ring set in 14K white gold

at Gabriel & Co./
This is one of our favorite rings for under $1,000. It packs a design punch without being overstyled OR having the design elements overpower the center stone. The vintage charm is highlighted by subtle edging combined with round side stones. A regal selection for a princess and a fiance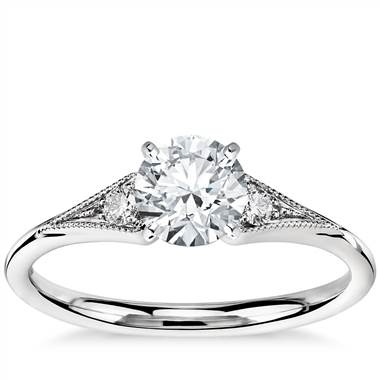 Heirloom petite milgrain engagement ring set in 14K white gold

at Blue Nile
Yes, yes and yes! If you want an engagement ring which can blend with today's jewelry trends, then your search is over. This vintage ring is ideal for stacking with multiple bands (a wedding jewelry trend in itself) as well as wearing it in a more traditional manner. A ring this versatile is guaranteed to give the wearer much pleasure for many years to come.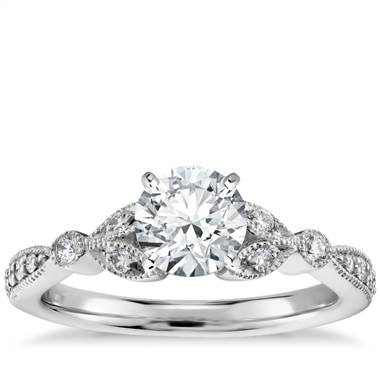 Petite vintage pave leaf diamond engagement ring set in 14K white gold

at Blue Nile
These rings prove that you don't have to have deep pockets to have an impressive engagement ring on your hand. These engagement rings are just as beautiful as the big stones minus the sticker shock. Now, doesn't that make for a very festive engagement season?

By
PS Staff