Jewelry Search
Find the perfect Ring or Gift
PS Welcome - YouTube
All about PriceScope
Fri, 25 Apr 2014
Jewel of the Week - Vintage Inspired Custom Tanzanite Necklace
H1:
Jewel of the Week - Vintage Inspired Custom Tanzanite Necklace
By
Erika Winters
Fabulous Jewelry Shared by Pricescope Members
Custom jewelry projects are often the most satisfying, and this week's featured jewel shows us the result of weeks of planning and execution! Thanks everyone for sharing your gorgeous jewelry in the Show Me the Bling forum!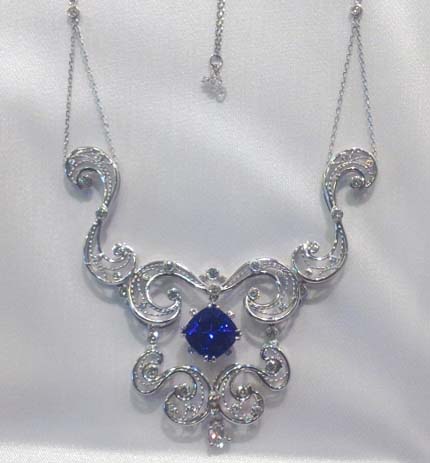 Tanzigrrl worked with her friend and jewelry designer to create an Edwardian-inspired necklace set with an 8.56-carat tanzanite. Curving scrolls set with diamonds surround the blue gem that Tanzigrrl named "Manhattan Velvet." There is also a pear-shaped diamond suspended from the necklace--which adds a lovely sentiment, as it's her original engagement ring stone. It's always fun to see the custom design process, and Tanzigrrl's forum thread includes additional pictures from the designer's studio. Be sure to visit her thread to see process pics and neck shots! Neo-Edwardian Elegance with a Tanzanite Heart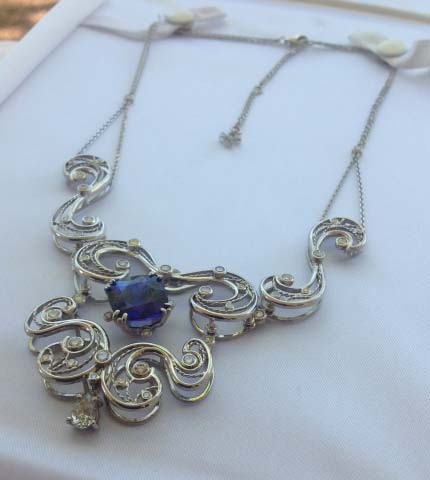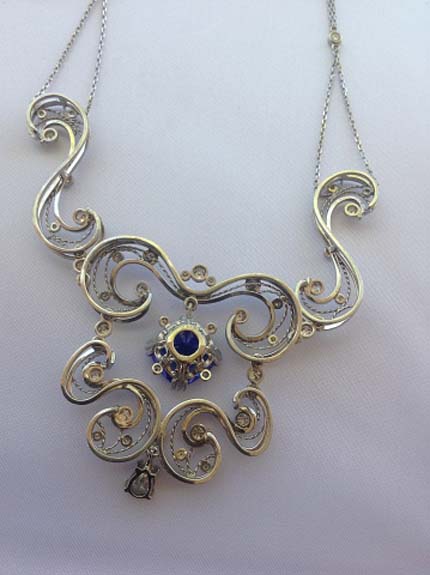 Thanks for sharing, Tanzigrrl!
Related forum and blog topics:

What does your everyday necklace look like?

How to clean a Tanzanite

Tiffany's 175th Anniversary Tanzanite Jewels for December