PS Welcome - YouTube
All about PriceScope
Fri, 30 Aug 2013
Jewel of the Week - Orange Crush: Spessartite Garnet Engagement Ring
H1:
Jewel of the Week - Orange Crush: Spessartite Garnet Engagement Ring
By
Erika Winters
Fabulous Jewelry Shared by Pricescope Members
This week's featured jewel–a spessartite garnet engagement ring shared by becpics–delivers stunning color with gorgeous style. Thanks everyone for sharing your gorgeous jewelry in the Show Me the Bling forum!
We love to see unique colored stone engagement rings shared on the forum, but we seldom see them set with spessartite garnets! So we were thrilled to see these beautiful pictures of becpics' completed custom engagement ring. She shared the custom process in the post linked below, and the result is just gorgeous. A 4.69-carat spessartite is set in white gold and surrounded by a lovely scalloped halo of diamonds. Be sure to visit becpics' forum post for more stunning pictures and details on the ring-making process: Spessartite Garnet (mandarin).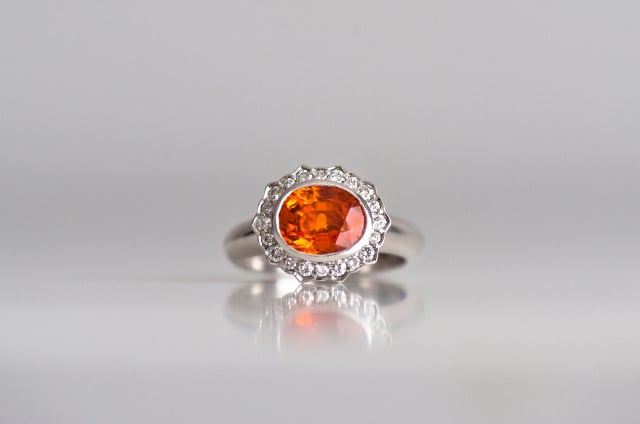 Thanks for sharing, becpics!
More on spessartite garnets:

Garnet Splendor for January: Jewels from Ivy New York

Orange Spessartite guidance

Goshwara's 110-carat Mandarin Garnet Ring