By Erika W.
Tired of sifting through the Google? Jewelry searches via the largest search engine on the planet often result in a lot of "noise." Check out Gemfling, a new jewelry-only search engine recently launched to help consumers connect with retailers and designers. Gemfling is an offshoot of Verichannel, a search engine specifically designed for the jewelry trade. Verichannel was created a year ago to help retailers and suppliers break from "Google log-jam." Gemfling, now in beta, provides the same search style, but works for consumers with 100% of searches restricted to jewelry industry websites.
Gemfling has three basic functions:
● Keyword search system (powered by Google) restricted 100% to jewelry industry websites
● Shopping structure that divides the web into specific channels–from local stores to multi-vendor platforms like ebay
● Store locator tied to Google Maps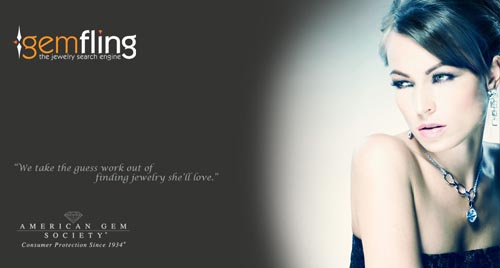 "You don't go to Google to buy an airline ticket, you go to Expedia," said Verichannel CEO Jacques Voorhees. "Why? Because it is a specialized search engine that focuses on the unique characteristics of the travel industry-hence delivering a more efficient shopping experience for the consumer. Now, with Gemfling, the jewelry industry can provide similar efficiency. It's better for consumers and vastly more efficient for retailers and brands seeking exposure."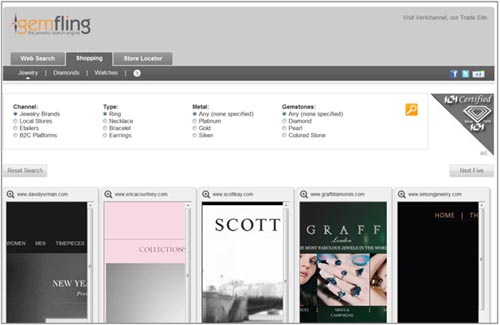 Gemfling's channel search is divided into Jewelry Brands, Local Stores, Etailers, and B2C Platforms. Consumers can also search by jewelry type, metal, and gemstone.