PS Welcome - YouTube
All about PriceScope
Thu, 03 Aug 2017
5ct Pear Custom Ring for 25th Anniversary
H1:
5ct Pear Custom Ring for 25th Anniversary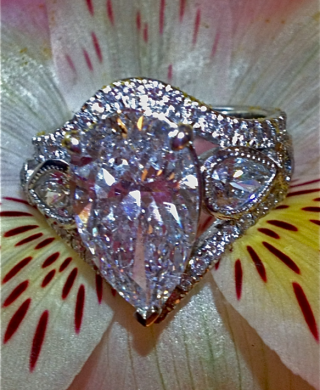 5ct Pear Custom Ring for 25th Anniversary
123LuckyMe shared her astounding 25th Anniversary Ring with us in the Show Me the Bling community. I believe that 123LuckyMe chose the right user name, because she is indeed a lucky lady! 25 years of marriage is a fantastic milestone and that ring is just stunningly gorgeous! I love that giant center pear surrounded by so many other stones that are all a part of the story that is encompassed by this ring!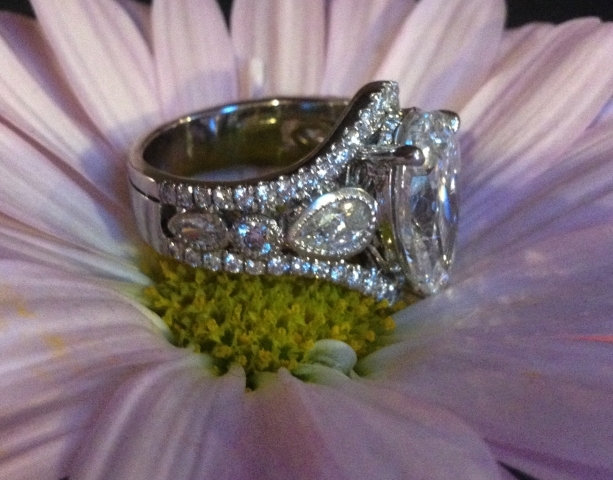 Side view of Pear, Round Brilliant, and Marquise
Center Stone The Stats:
5.01 ctw Pear
VS-2
F Color
Other Stones
2 Pears
2 Marquise
2 Brilliant Rounds
88 Micro Pave Diamonds
The story is that the 2 Pears signify Her and Her Husband,the 2 Marquise signify their 2 sons, and the 2 Round Brilliants signify their 2 daughters. The 88 Micro Pave Diamonds signify that they were married in 1988! How fabulous is that? What a wonderful piece and a seriously cool family heirloom! I feel pretty lucky to have just read your story, 123LuckyMe, I can only imagine how you feel!



To read the entire post with loads of pics, click here
On Throwback Thursdays, we take the opportunity to re-appreciate beautiful pieces that have been shared over the years!
Thank you so much for sharing your jewelry experiences with us. Keep revisiting PriceScope's past with us each Thursday!
#TBT
Learn more about the pretty pear diamond cut here
Different cut shapes, to fit your style, learn more about different shapes here
By
Kayti Kawachi