PS Welcome - YouTube
All about PriceScope
Mon, 26 Mar 2012
Fabergé to Launch Online Boutique on April 16
H1:
Fabergé to Launch Online Boutique on April 16
By
Erika W.
Iconic jewelry brand, Fabergé, is set to launch an online boutique on April 16, 2012. The e-commerce site is designed to complement the brand's network of retail stores and will feature each of Fabergé's collections--Les Favorites, Les Saisons Russes, Les Fabuleuses, Les Fameux, Le Carnet de Bal, and Solyanka. Items from Fabergé's collections can be viewed and purchased in multiple currencies, and international delivery will service over 29 countries. The site will also feature an interactive area where visitors can learn about Fabergé's legacy and social projects.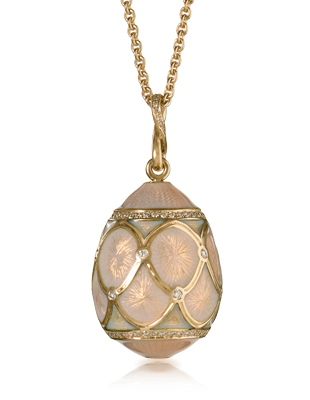 The Oeuf Pavlovsk Poudré is one of several new egg pendants from Les Favorites de Fabergé collection, which will be featured at the new online boutique.
Related Topics:

Fabergé to Unveil New Jeweled Egg Collection

Royal Jewels

List the 3 best jewelry houses