PS Welcome - YouTube
All about PriceScope
Mon, 29 Jun 2015
Diamond Prices down for May 2015
H1:
Diamond Prices down for May 2015
By
Andrey Pilipchak
Diamond Prices News Update - May 2015
Retail diamond prices dropped this June after some small rises in the past 2 months. Retail diamond price changes are based on Pricescope's database of over 600,000 diamonds listed in the search and compare diamonds feature from retail and online stores. Read more about diamond price changes below.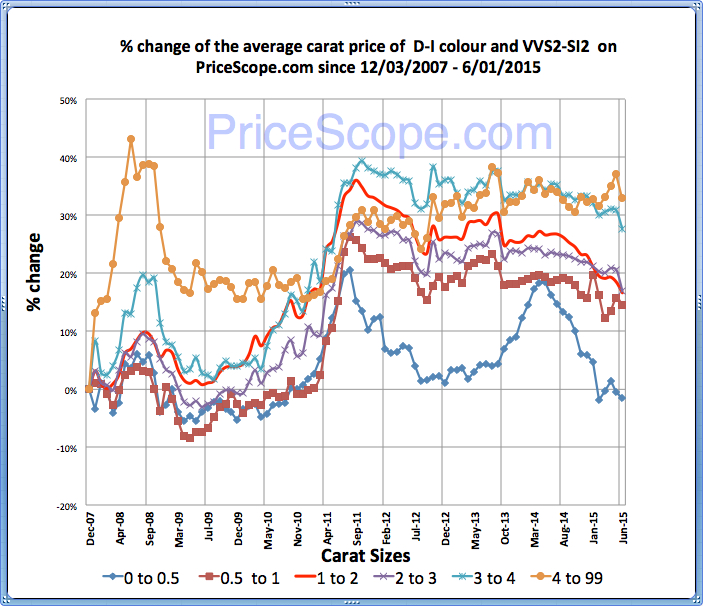 Retail Diamond Prices Changes for June 2015
Diamond Carat Sizes
Diamond Prices Change
0.0 - 0.5
1% decrease
0.5 - 1.0
1% decrease
1.0 - 2.0
2% decrease
2.0 - 3.0
4% decrease
3.0 - 4.0
3% decrease
4.0 - 99
4% decrease
Below is a collection of current news related to diamond prices
Rapaport: Lower Supply Supporting Polished Diamond Prices
Diamond markets were stable in May as reduced supply supported polished prices in select categories.
IDEX Online Research: May Polished Diamond Prices Soften
Polished diamond prices have been on a rollercoaster ride for almost a year, and May's prices were on the downhill side of that ride. After a notable recovery in March and April, polished diamond prices slipped in May.
Pricescope Related Blogs or Articles:

U.S. Jewelry Spending Is Up, Millennials Buying More Than Any Other Age Group

Retail Diamond Prices Up Slightly in April