By
Erika Winters
Celebrities, including Kate Hudson, Gwyneth Paltrow, and The Great Gatsby star Carey Mulligan, shined in Tiffany jewels at the 2013 Blue Book Ball. The gala, which was held at Rockefeller Center on April 18, celebrated the launch of Tiffany's 2013 Blue Book Collection of exquisite jewels inspired by Jazz Age glamour.
Tiffany's Blue Book launch was timed perfectly with the upcoming film premiere of Baz Luhrmann's The Great Gatsby starring Carey Mulligan as Daisy Buchanan. Tiffany designed the jewels for the film exclusively in collaboration with costume and production designer Catherine Martin.
"The Jazz Age was a time of great energy and creativity. All eyes looked to New York for the latest in music and style. As the city's first great jeweler, Tiffany provided the diamonds for this nonstop party—and I am happy to say, we still do. So it is with pleasure and gratitude that we celebrate this memorable chapter in American life, in the city where it all began—and with our diamonds that are still the world's most beautiful," said Michael J. Kowalski, chairman and CEO of Tiffany & Co.
Tiffany hosted approximately 400 guests at the gala, which was held inside a 31-foot-high Tiffany blue box that covered Rockefeller's 15,000-square-foot ice rink. Jewels from the 2013 Blue Book were showcased in dazzling style, reflecting Tiffany's Art Deco design legacy. Notable jewels included a stunning diamond brooch inspired by a design from the French Crown Jewels and worn as a hair ornament by Jessica Biel. Gwyneth Paltrow also wore a brooch–a butterfly shape set with Montana sapphires, black opals, and diamonds. Kate Hudson wore an exceptional pair of morganite and diamond earrings from this year's Blue Book Collection. And Sarah Jessica Parker stunned in a bold tanzanite and diamond necklace.
Tiffany's annual Blue Book Collection was first presented in 1845. And since 1878, the company's signature Tiffany Blue has graced the cover of its publication showcasing the year's most spectacular jewels.
Kate Hudson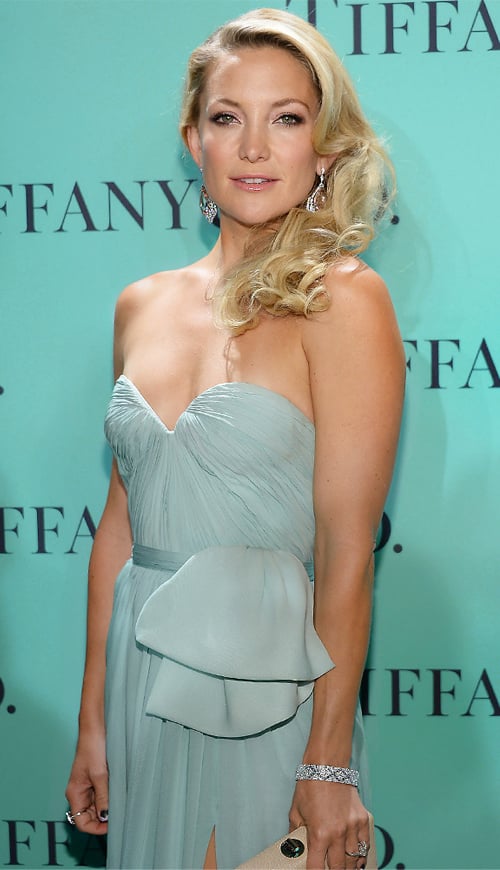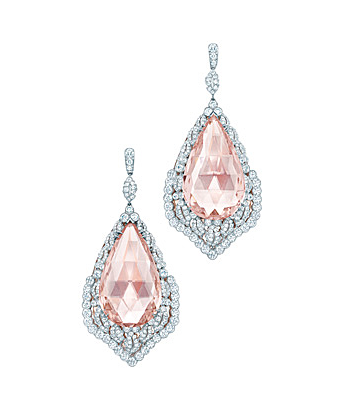 Kate Hudson wore morganite and diamond earrings, pink and white diamond rings, and a diamond bracelet from Tiffany's 2013 Blue Book Collection.
Gwyneth Paltrow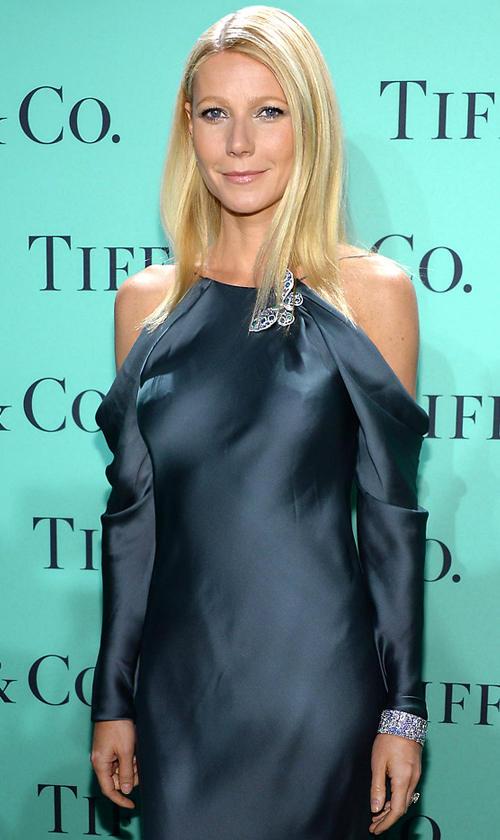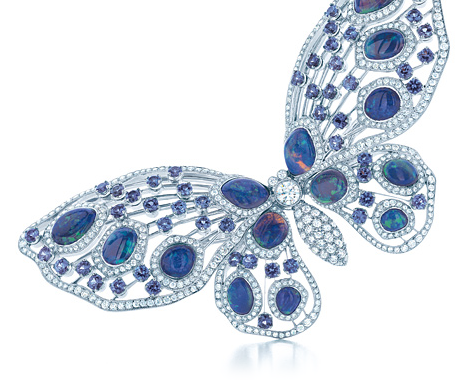 Gwyneth Paltrow wore a butterfly brooch with black opals, Montana sapphires, and diamonds and a Montana sapphire and diamond bracelet from Tiffany's 2013 Blue Book Collection.
Carey Mulligan and Baz Luhrmann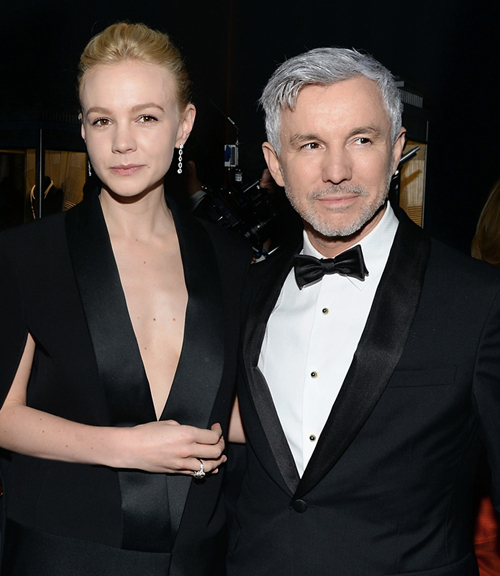 The Great Gatsby star Carey Mulligan wore Tiffany diamonds and posed with director Baz Luhrmann at Tiffany's Blue Book Ball.
Jessica Biel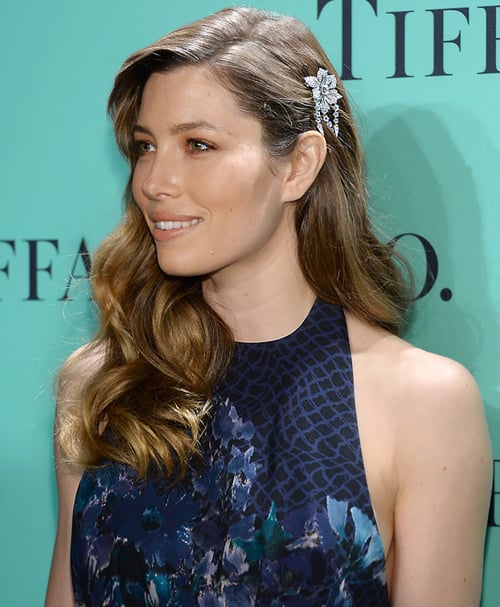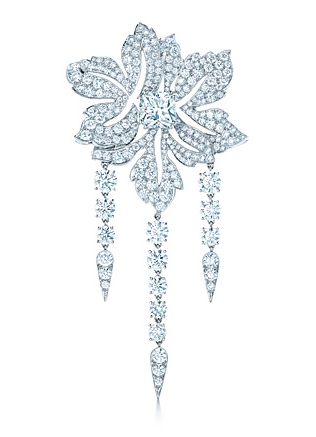 Jessica Biel wore a Tiffany archives-inspired brooch based on a design from the French Crown Jewels.
Sarah Jessica Parker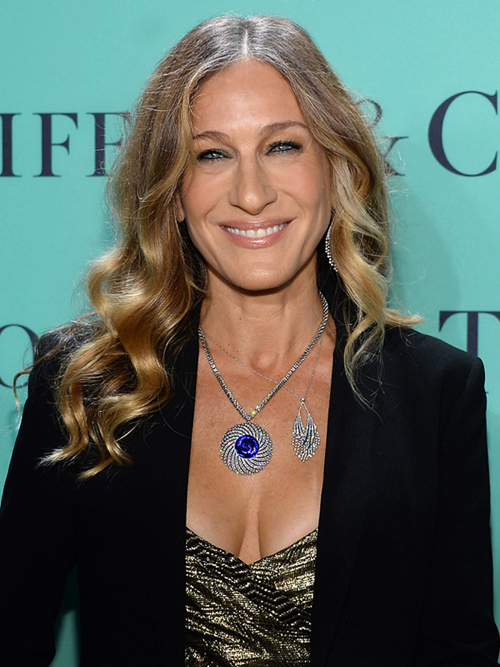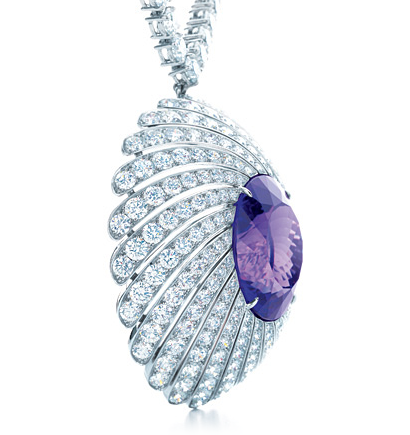 Sarah Jessica Parker shined in a tanzanite and diamond necklace from Tiffany's 2013 Blue Book Collection.
Related Blog Topics:
For Your Blogroll: Tiffany & Co. on Tumblr
Tiffany's 175th Anniversary Tanzanite Jewels for December

Jewelry Musing on Baz Luhrmann's Adaptation of 'The Great Gatsby'