PS Welcome - YouTube
All about PriceScope
Wed, 15 Sep 2010
AGS Laboratories Updates the Diamond Quality® Analysis
H1:
AGS Laboratories Updates the Diamond Quality® Analysis
By
Erika W.
The Compact Report with Expanded Features
From the press release:
"The American Gem Society Laboratories, LLC (AGS Labs) today announced that the compact-sized Diamond Quality® Analysis ("DQA") is now available for diamonds weighing from .18 carats up to 1.99 carats. Additionally, the DQA will offer the opportunity to include a computer-generated Light Performance map for diamond shapes featured in the AGS Performance Grading system.
Originally launched in 2007, the DQA comes in a convenient 8.5'' x 4.75'' format and previously was offered for diamonds weighing up to .99 carats. The report contains a complete analysis of the diamond's Cut, Color, Clarity, and Carat Weight, as well as a laser inscription of the AGS number."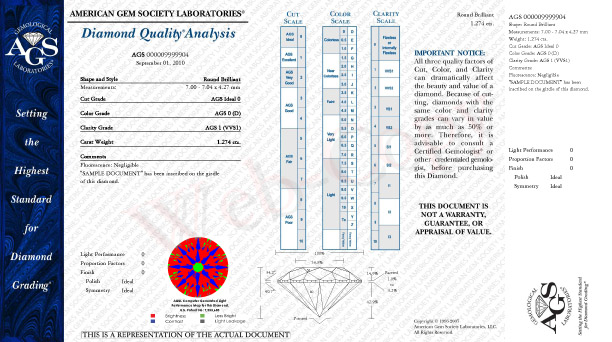 Sample Diamond Quality® Analysis
AGS Laboratories
Click Here to Discuss on the Forum