PS Welcome - YouTube
All about PriceScope
Thu, 02 Mar 2017
5 Facts about Black Diamonds
H1:
5 Facts about Black Diamonds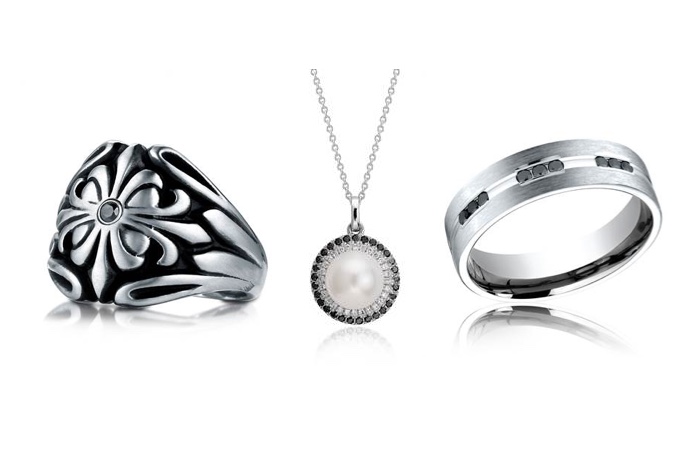 Black Diamonds
Black diamonds are inching their way closer and closer to the limelight. Jewelry designers have responded to the increased interest for the alluring stone by giving consumers more intricate jewelry designs which feature the stone.
Yet, for every person who loves the look, there is another who is confused by the stone. Is it a diamond or is it part of a glitzy marketing campaign to repackage a worthless stone?
The truth of the matter is, there is much more to black diamonds that what meets the eye.
Fact #1: Black Diamonds are Extremely Rare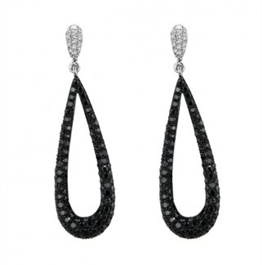 Bow Diamond and Blue Sapphire Ring

at EFFY
True black diamonds - meaning diamonds which are not treated to increase their color and durability - are very rare and highly prized.
However, treated black diamonds are what most people encounter on the market and they look just as good as the true black diamonds for a fraction of the cost.
Fact #2: They're Colored Diamonds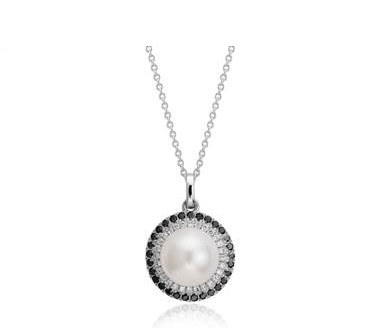 Freshwater cultured pearl and black diamond and white diamond halo pendant set in 14K white gold

at Blue Nile
The grading system classifies black diamonds as fancy black. GIA will not grade a black diamond because it is difficult to determine its clarity, however, they will issue a "Colored Diamond Identification and Origin Report" (CDIOR) for identification purposes.
Fact #3: They're found in South America and Africa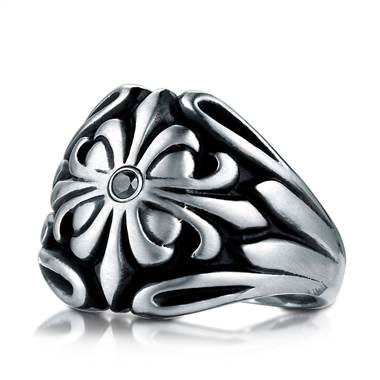 Cobaltchrome fancy black diamond ring

at B2C Jewels
To be specific, black diamonds are found in two main areas, Brazil and Central Africa.
Fact #4: They're Easy to Maintain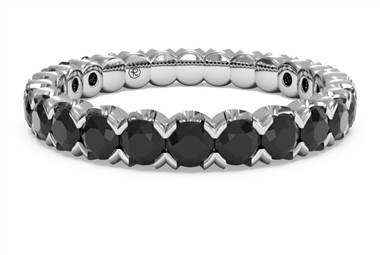 Classic black diamond stackable ring set in palladium

at Ritani
Black diamonds are the exact same as white diamonds except for the graphic inclusion in a black diamond's crystalline structure during formation. This means that you can clean and maintain your black and white diamonds the exact same way without having to go through extra steps to care for black diamonds.
Fact #5: They're Great in Wedding Jewelry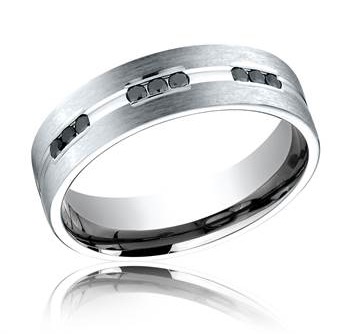 Satin finish black diamond wedding band in 18K white gold

at I.D.Jewelry
More and more jewelry designers are creating engagement rings and wedding bands using black diamonds. The stone is popular with brides and grooms who prefer traditional diamond rings with a twist.
Now, aren't you glad we clarified the truth behind black diamonds? To put it simply, they're beautiful, unique diamonds which should definitely be added to your collection as soon as possible. These stones are the real deal, no glitzy marketing campaign necessary.

By
PS Staff