Judah Gutwein
PS Welcome - YouTube
All about PriceScope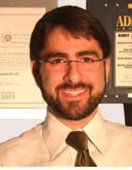 Judah Gutwein is a 4th generation member of a family owned and operated diamonds and jewelry business since 1943. Just like Judah 's Dad (Barry) left a productive career in research Physiology in 1978 to join the family business, Judah forsook a career in Psychology to pursue his own passion for diamonds. He joined the family business in 2002 as Director of Sales & Marketing. With the evolution of the Internet as a viable means of selling diamonds & jewelry,
www.ExcelDiamonds.com
was created as a means of bringing their products directly to the public.