The adventure
We boarded the PoW's in Delhi for a 1 week round trip.
In our carriage there were 4 bedroom / ensuites and a small sitting room that we shared with the other 3 cabins. Breakfast was served there by our 2 room butler guys.
We had a couple from NYC, Cydonia and Barry, really switched on and good fun. A 27 year old girl, Jennifer also from New York, who had just resigned as a currency broker from Goldman Sachs to do a spot of travelling, and finally a Pommie couple from Sydney who were 40/50 odd. Liz and Steve were school teacher and electrician trade-unionist; naturally Garry kept the conversation to religion and sex.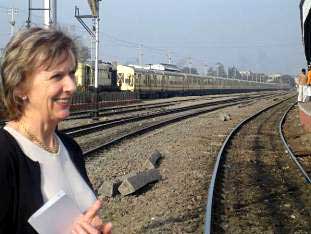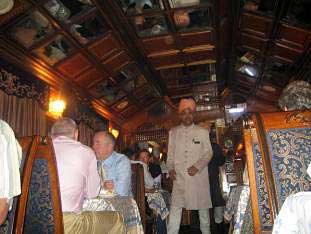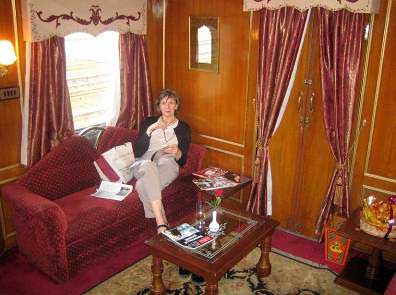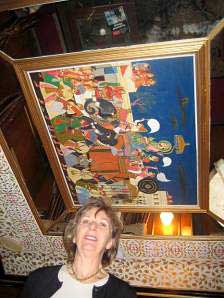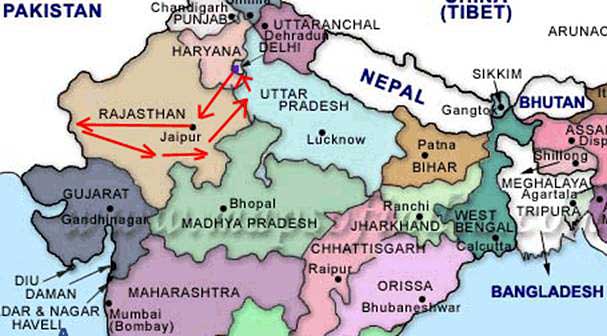 The First Day
We traveled most of the time overnight. First day we woke in Jaipur where we caught a bus to drive thru the city past the Palace of Winds, or Hawa Mahal, where harem women sat concealed behind stone screens with a cool breeze to watch the street markets. This amazing building is only 1 room deep – a bit like a Hollywood facade.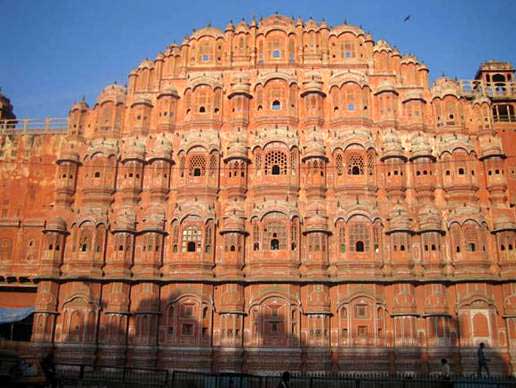 Then on up to the base of the Amber Palace fort on the cliff top.
The very steep narrow road to the top was easy on elephant back.
The hawkers are every where trying to sell things – they throw their goods up to you!!!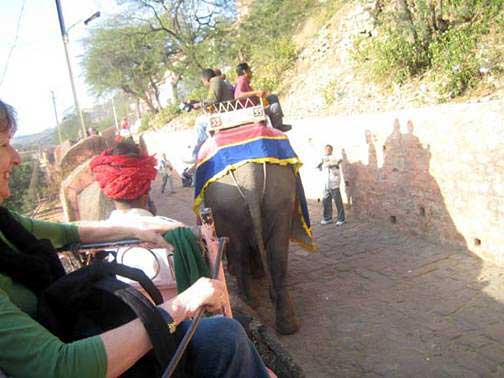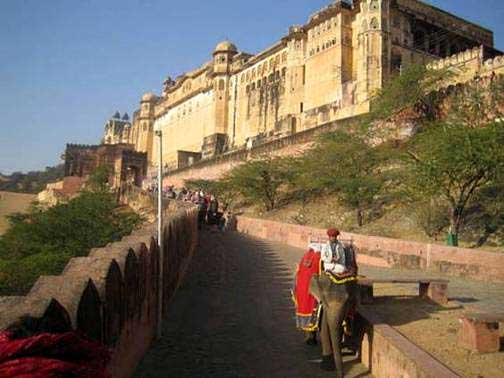 After that tour we went back down town and after lunch in a luxurious Taj hotel which is one of the more recent palaces that have been converted into a hotel. We very often ate lunch in these palaces.
This is very common, the 15 or 20 remaining Moguls or regional rulers get taxed on their wealth. Since they own a lot of property they either must put it to work by leasing it out to hotel chains etc, or they legally pass title to a trust. In this case they then often take a leading board position to supervise the management of museums and tourist sites etc. But this means they no longer personally own the palaces and forts.
New Palace
Next we went to the new palace behind the Hawar Mahal or the windy windows building (the one room deep facade). The Maharajah, Sawai Jai Singh born 1688 AD, who reigned during the 18
th
century first established Jaipur. He built a number of observatories around India, with the show piece inside the grounds of this palace. They are typically enormous sun dials and devices for predicting astrological birth signs etc, but they showed that he had a very good knowledge of astronomy.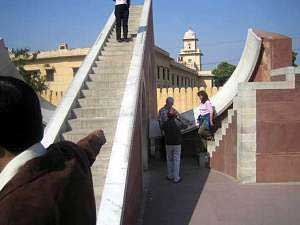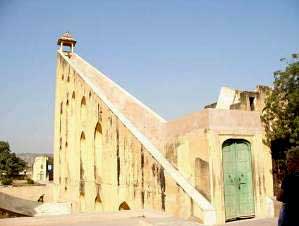 See where the two people on the right are pointing – the suns shadow cast from the marble edge of the stair case makes it possible to read the time to within 20 seconds. The big one he built later, 5 storey's high, of this same design records time in 5 second intervals. Sailers came from Bombay and Calcutta to reset their navigational chronometers.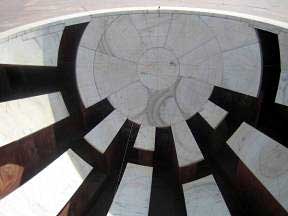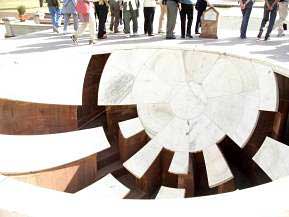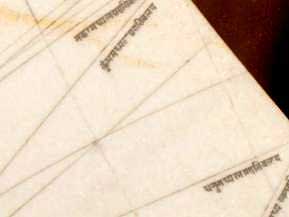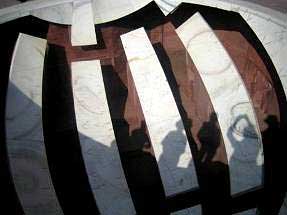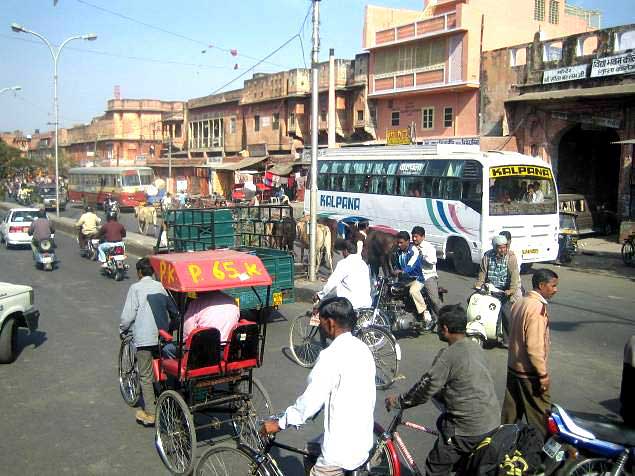 Just by the way – see the cows wandering down this road – it is a very busy main street in Jaipur – and they are going the wrong way on the wrong side. There really are cows all over the place – you just walk right by them and try not to get hit by their tail as the swish it about. Jaipur is also the gem cutting center for colored stones in India and one of the worlds leading places for emeralds (although most are imported here as rough and then cut and polished).
There are two almost identical versions of this swimming pool sized hollow hemispherical marble structure, side by side. An entrance from below makes it possible to walk around and measure the position of the planets and daily time for very accurate birth zodiac and astrologic predictions. The adjoining structure had the missing parts of the hemisphere in place. There are fine curved lines engraved into the marble for astrological predictions.
That night we went back to the train for dinner, the on board food was just OK, and the wine was very expensive so we mainly drank a beer or two. It was a very long overnight train journey. Sleeping on a rocking train is just wonderful; the only complaints I heard were that when ever we stopped to let another train past as we were sometimes on single track lines – we would often wake up when the rocking stopped.
Second Day
Each day we had tours out in one of 3 or 4 buses; we were a green badged group – naturally Drena and I taught them all to refer to us as 'emerald group'. A different guide joined each day. On the second day at the desert fort town of Jaisalmer we were joined by Raj (every other guys name in Rajasthan is Raj). Raj kept reminding us he was from the warrior class; that was probably his excuse for not having much between his ears.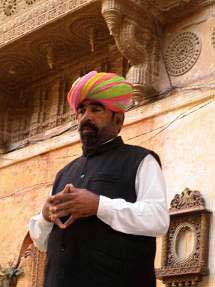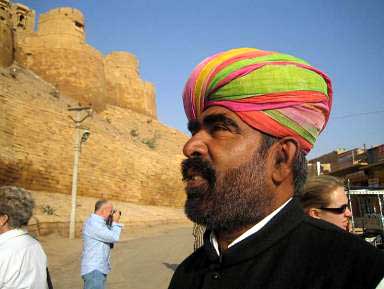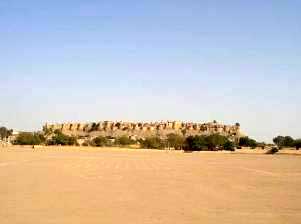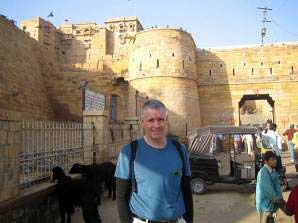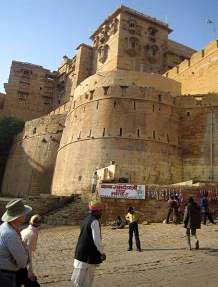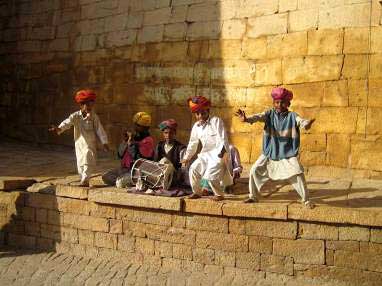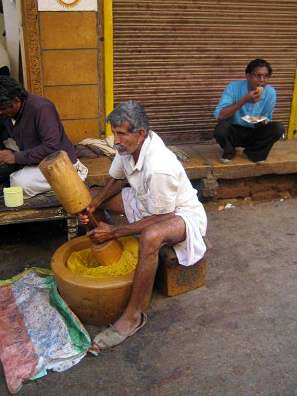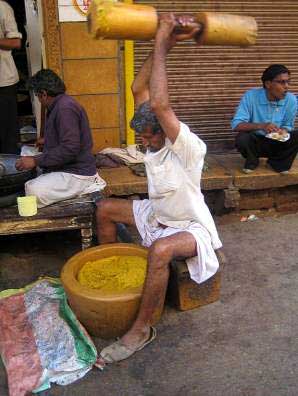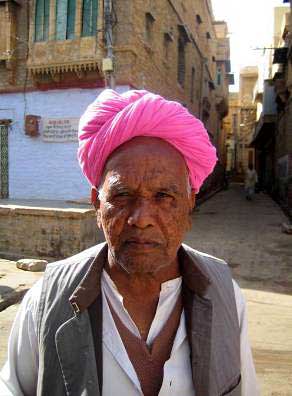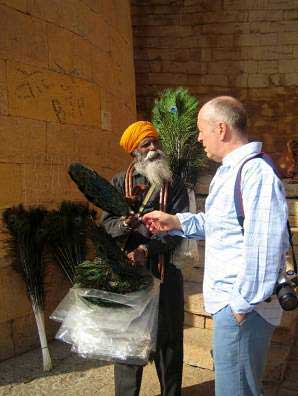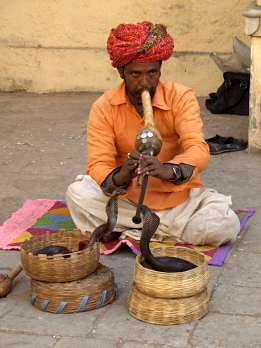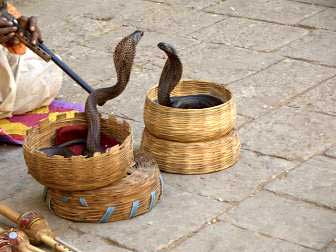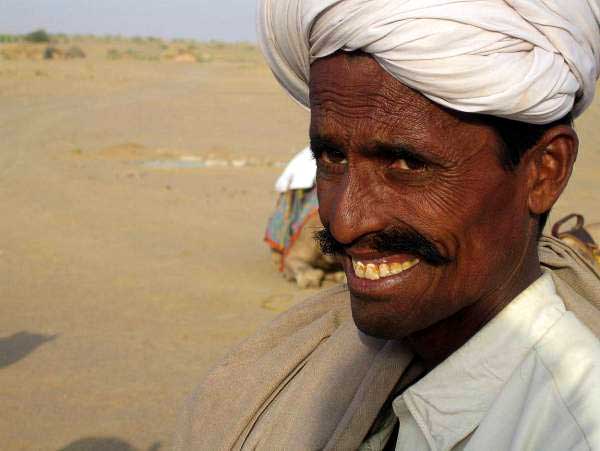 This town is in the most western part of Rajasthan, only 10's of Kilometers from Pakistan, and on the edge of the Thar desert which made it part of the historic camel train spice and trade route for thousands of years.
This town was our favorite – it showed many good examples of the merging of religions and architecture that characterizes Mogul culture. The original religion at zero AD was mainly Buddhist. Next came Jain, who were very strong in this town because they are traders, followed by Hindu from about the 7th century. Moslems came along from Persia much later, about the 12th century. Now when the Moguls invaded from the north central Asian areas, where all the nations names end in 'stan'; they took over all of Rajasthan because they bought with them gun powder, muskets and canon's. But the Mogul's (like the Roman's) adopted the religions and philosophy's of the nations they invaded and this led to some strange melding of architecture. We saw for instance Islamic arches in the Jain temples and combinations of all sorts of architecture in the Mogul palaces.
The population now is mainly Hindu and Moslem, since the camel trade died out a century or more ago, the Jain have mostly moved on. Most of the people we do business with in the diamond industry are Jain; it is very much like Hindu, but apparently predates Hindu. I think the Jain fit in like an upper cast of Hindu. They are certainly very pleasant people and we rarely if ever have problems or difficulties dealing with them.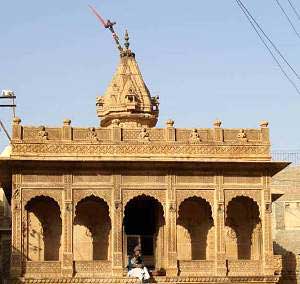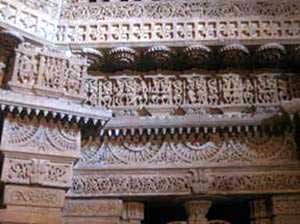 Solid marble 12th century Jain Temple with Islamic arches. This was amazingly ornate inside.
Camel Ride
After lunch we headed out to the desert for camel rides and to watch the sun set across the desert.
Yes we actually went on a 1 hour camel ride – and let me tell you, if you had to ride one of these things for a few days you would hardly be able to walk.
They were well behaved though; ours was led by a 12 year old, so it was just as well.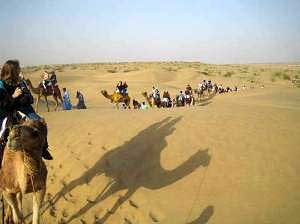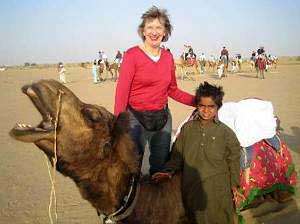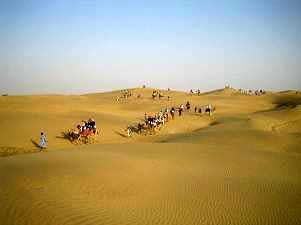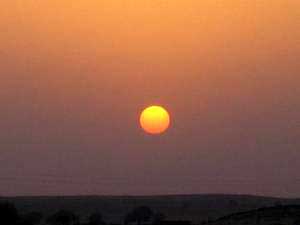 That night we were carted off for a 'cultural dinner', you know the type where if you do not enjoy the cultural dances and jangly music, you get no dinner.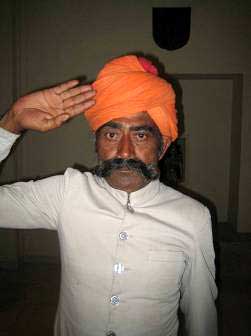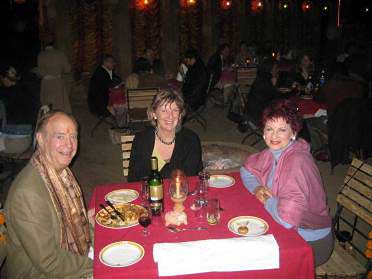 We were well greeted at the new desert hotel, and Barry and Cydonia shared our desire to start eating before the festivities were completely over.
Day 3
On day 3 we woke up in Jodhpur ready for another day of forts and palace lunches. The Moguls Raj's like a spot of Polo, which was invented in this part of the world. So guess where Jodhpur riding pants come from?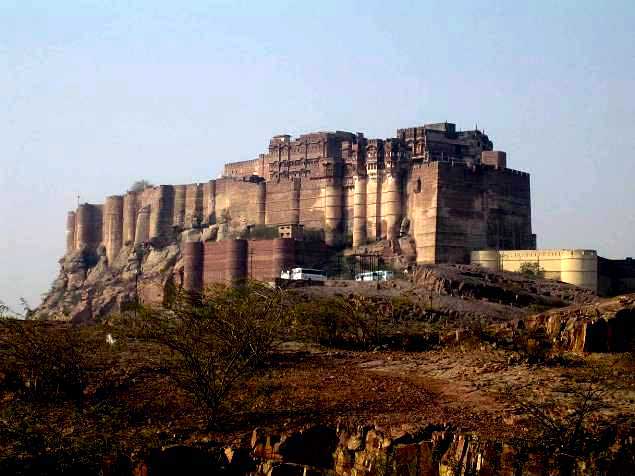 The Jodhpur fort was the best maintained and is still inhabited by the current royal family.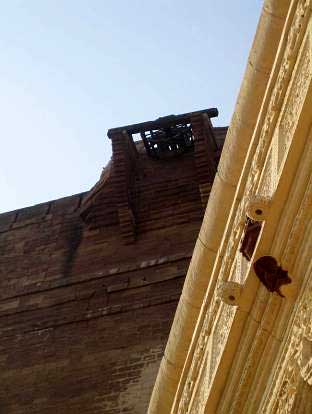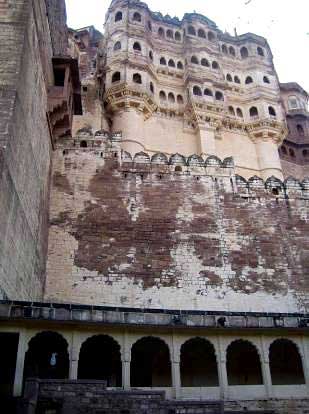 The water wheel ate the top was turned by camels etc at the top and drew water with a pulley and bucket mechanism from rainwater catchment wells inside the yellow structure below.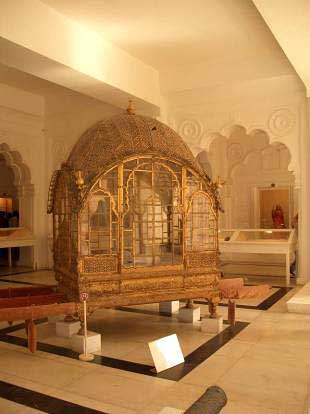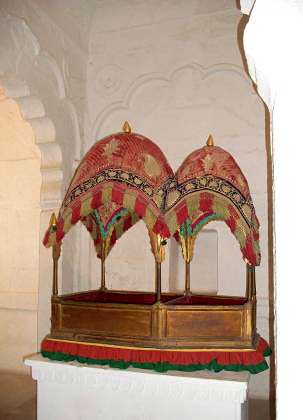 These pictures show a turban tying demo, opium processing for parties etc (the guy was really spaced out) and a gold covered pallin? Thing to cut down on walking and an elephant seat.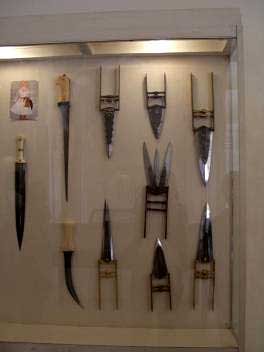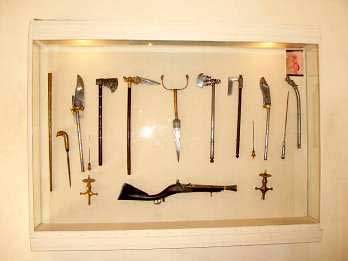 There were some great weapons of minor destruction. The 3 bladed knife had a spring mechanism that you released after the stab, just t'b sure t'b sure.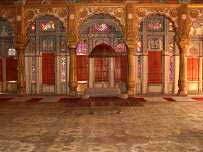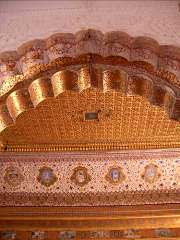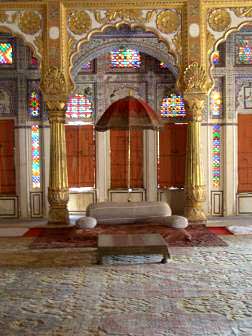 After the fort we drove across town for lunch at a wonderful new domed palace that was built during the 1930's by the current Raj's grandfather. Unfortunately I did not get any photo's as my battery died. But the story goes that during a nasty drought the Raj decided to do a major public work to employ starving farmers etc. Well it really was quite a palace. It was designed with about 100 apartments and rooms for guests; these guys like a party!
Trouble is these days they don't get away with taxes etc, so as I explained a lot of them let some or all the property out to hotel groups like the Taj. This one was being run by the Raj as a private hotel, but he has decided to let it out to the Taj group because they just don't have the marketing etc to fill it. We poked around and asked one of the floor room boys to show us a suite and took this photo (the battery came to life for 1 only).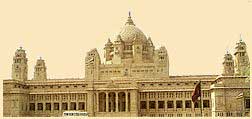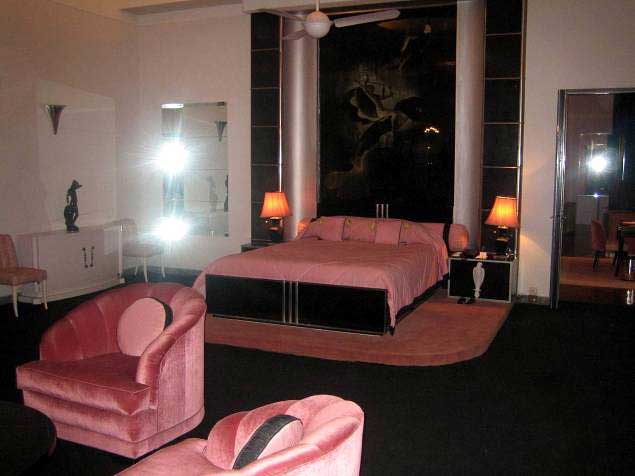 Now this bedroom had a bath room with a solid orange marble bath and matching basin, a changing room and toilet room (that was bigger than many hotel rooms). Off the lounge room was a magnificent 12 setting dinning room with its own kitchen. It is currently all yours for US$500 a night.
Tiger
Next morning we were on our open topped bus before sunrise. You have to get up early to catch a tiger. There are apparently about 40 tigers at Ranthambore National Park; about one per square kilometer. The guide broke the news gently; it is a bad time of the year to see tigers – he and our driver had not seen one for two weeks. (We read a week later that 18 tigers are now believed to have been poached. Sickening)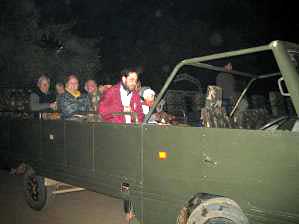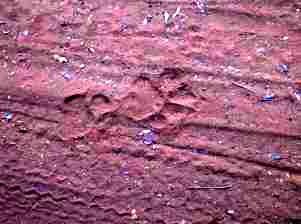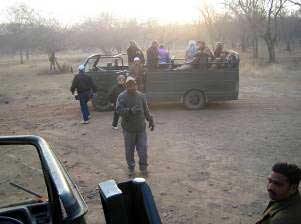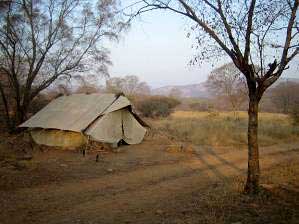 We saw this fresh tiger print on the road ? an hour out. We had a toilet stop at this game keepers camp, and then continued on our way. After driving across a high area for a few kilometers we came to a fork in the road and a jeep full of people waved to us, and sure enough, crossing the road in front of them was the brightest orange tiger you ever saw J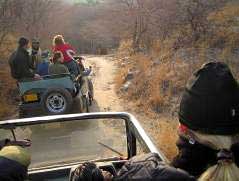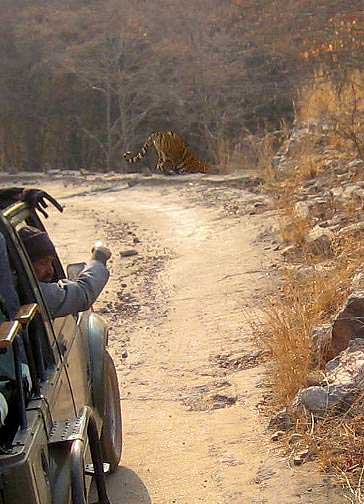 The first picture shows the scene and the second one has been blown up a bit. This was taken like a shot from the hip – we had very little time. The camera was on the smallest picture size (600kb) and there was no zoom used, facing into the sun.
We drove up and saw him (or her?) casually loping of through the scrub. I got more photo's, but you need some imagination to spot the tiger.
There were heaps of other birds and animals too.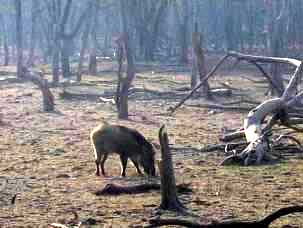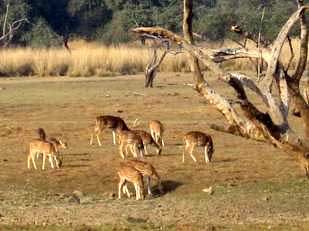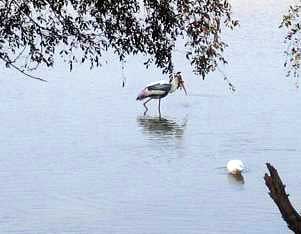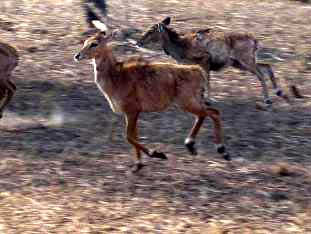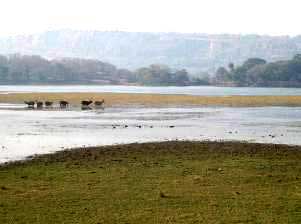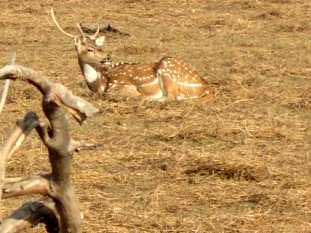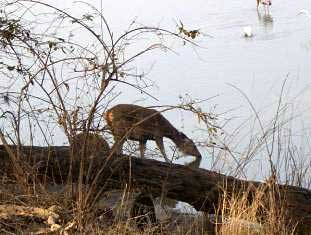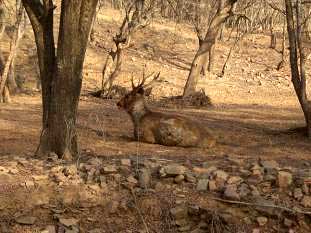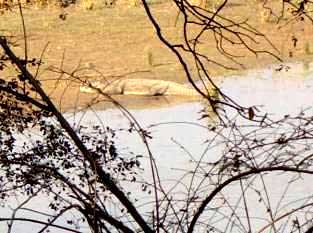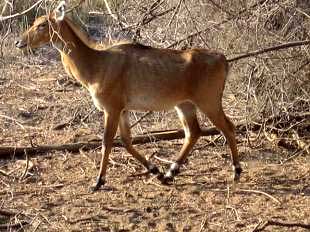 Chittorgarh
Back to the train and then on to Chittorgarh, which was a huge plateau walled fortress. It is most famous for a few mass suicides of women, rather like Masada. Except the women leapt onto a huge fire. Not a nice way to go.
It also was overrun with monkeys and had some leaning towers of Jain and Hindu monuments.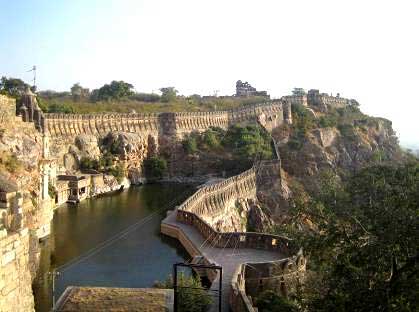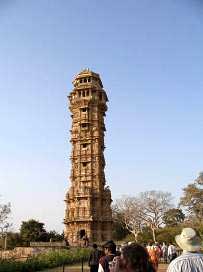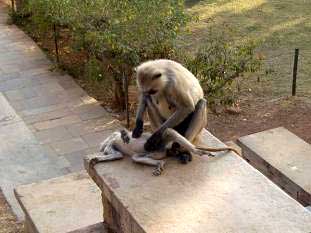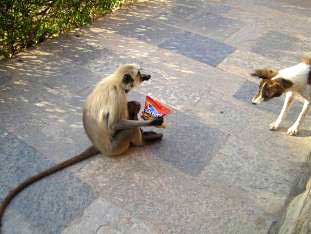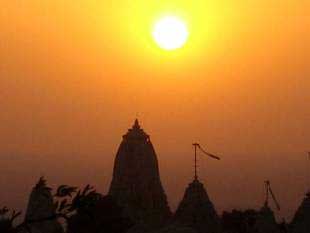 Udaipur
Next morning we had to bus to Udaipur because there were no train tracks from our direction. Udaipur is probably the most well known, after the Taj Mahal, of all the palaces. It is the one in the center of the lake. Trouble is they have had a few years of bad monsoon and the lake was 90% dry L.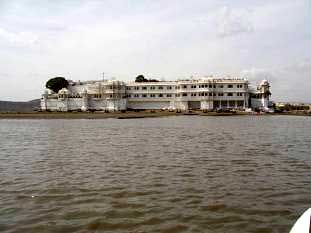 That's the summer palace right out in the middle of the paddock. On the right is one taken from the shallow muddy water they have managed to pump into one side so you can take a boat across rather than just walk the 200 meters.
We had a wonderful lunch there, and then toured the regular palace which was just behind the position where the photo was taken in the boat. Here are a few photo's showing first the family tree (which was unbroken for all those generations – but there were a few cousins invited when the guys could not manage to produce a male heir!!!)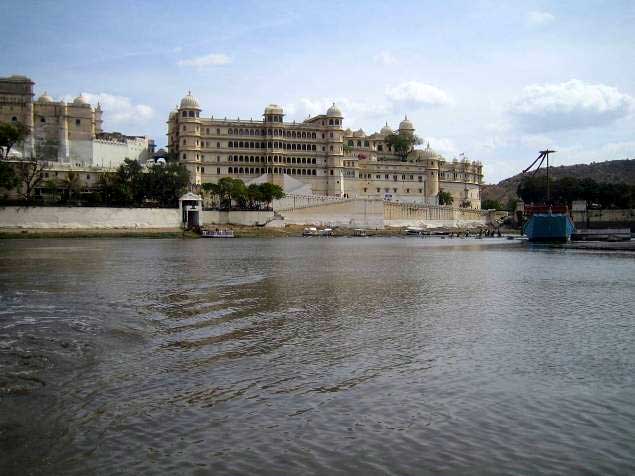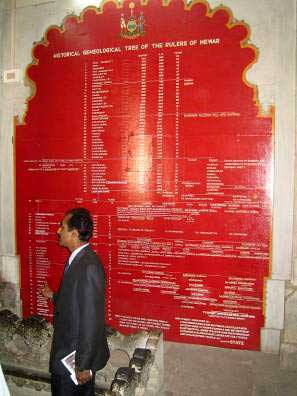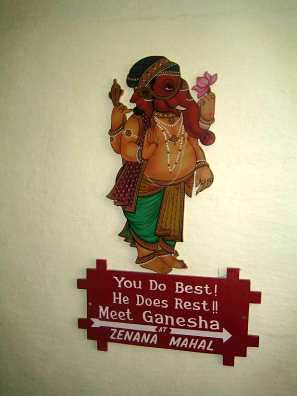 Ganesh
No journey through India could be complete without a description of Ganesh. The 4 armed elephant head God that brings good luck and prosperity is everyone's favorite. This was an advertisement inside the palace museum for a nearby exhibition. I felt more than a little Ganshish after all the eating we did!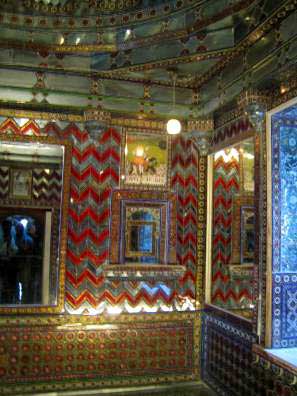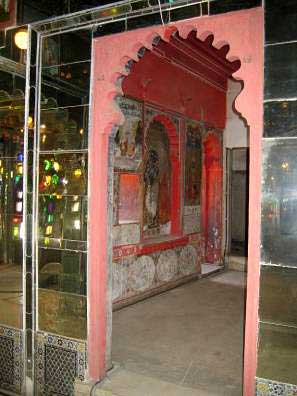 A little mirrored opulence counter pointed with the utensils for the kitchen – but this was the kitchen for food for the God's preparation.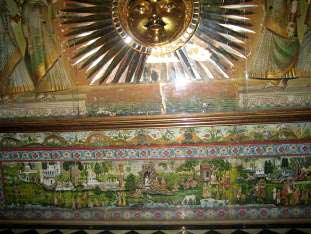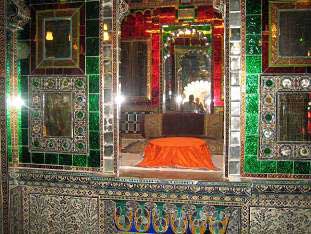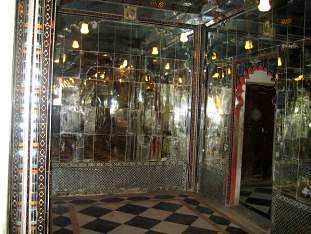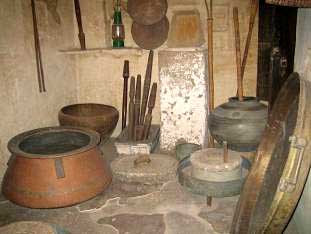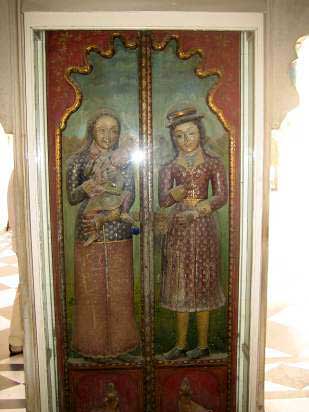 The ornamental doors on the left were sculptured in 3D relief – about 6 inches (15cm) deep. The peacock was made of millions of glazed tiles; peacocks and monkeys roam wild every where, just like the cows.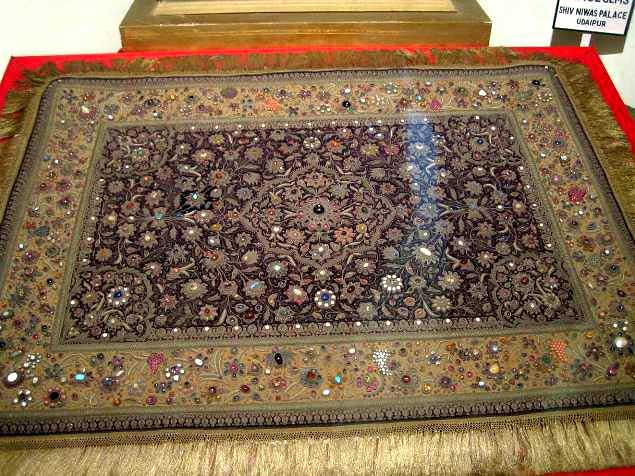 Now this would have to be the world's most uncomfortable rug. It is literally studded with gems. Lapis, Turquoise, garnets, tourmaline, coral, low grade star rubies, amethyst, pearls and mabe' pearls and more!
After a scary bus ride back to the train, we ate, slept and jumped back on the bus for the last day touring. We began with a rickshaw bicycle ride through Bharatpur bird park with a nice young guide with sharp eyes and binoculars supplied. This too was meant to be covered in water – but they only had about 10% coverage from pumped ground water. (I did put a couple of birds from the Tiger park here too, and note on the left the jackal.)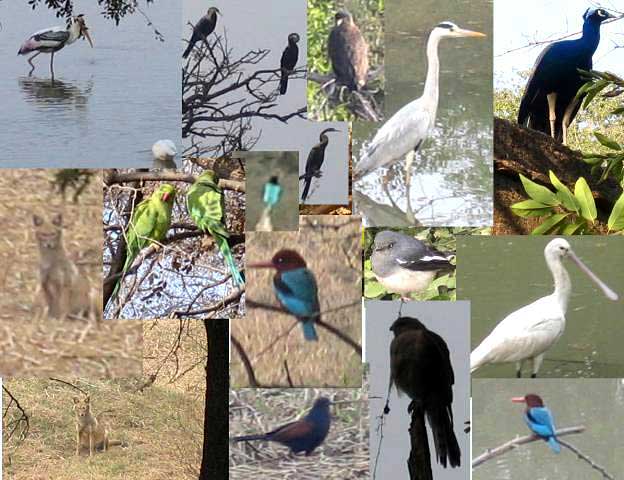 Lost City
We then drove to Fatehpur Sikri which is the "Lost City". It was surrounded by the most aggressive hawkers we encountered. By now we were all forted out, but this was an interesting place. We also watched some stone carving being done as part of a major restoration effort.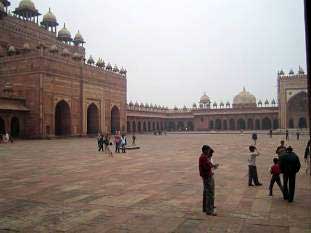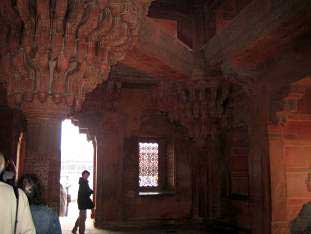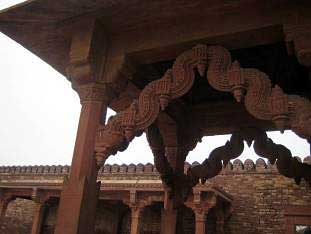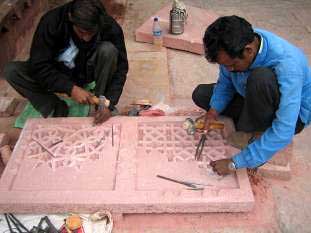 Then back to the bus and off to Agra for a quick lunch in another old palace now run by the Taj hotel group. Then to the grandest of them all. The Taj Mahal. These first photo's are of one of the entrance gates.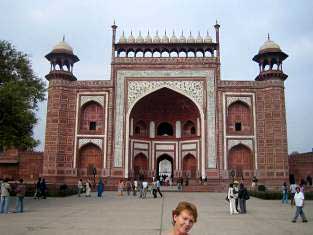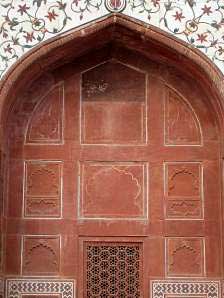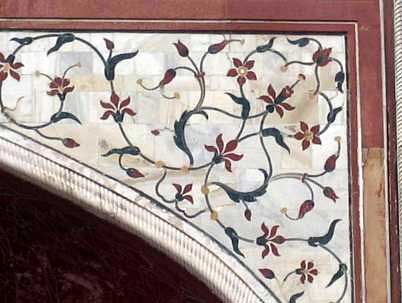 In itself this is an amazing bit of architecture. The stone work inlaid into the marble is various shades of agate and jasper with blue lapis. This type of work is called Petra Dur (petra = rock and I guess Dur is latin for picture?) which was supervised by artisans from Florence where this was very popular during the renaissance. Well fortunately this is a digital camera and we don't pay for film: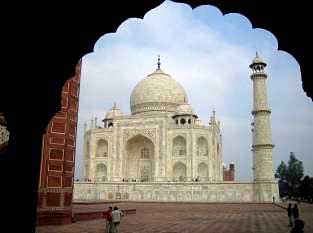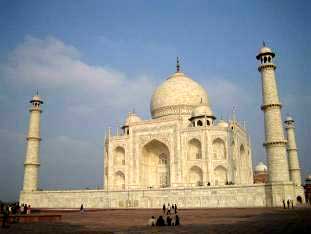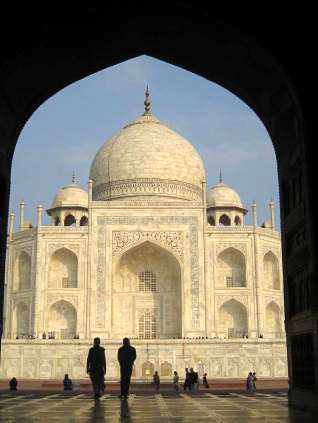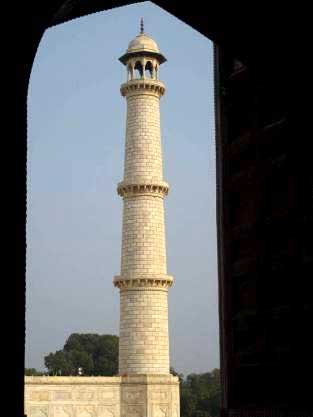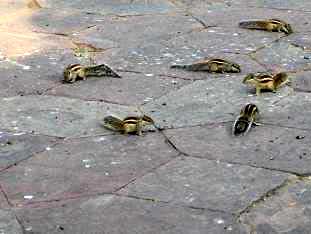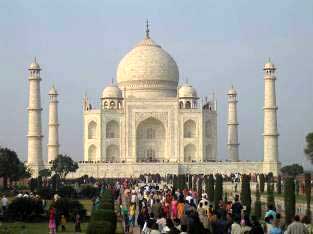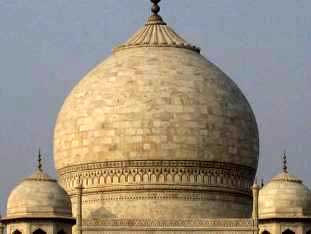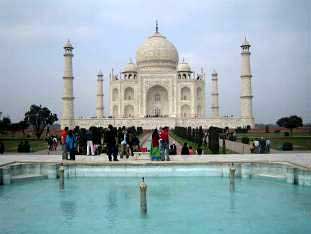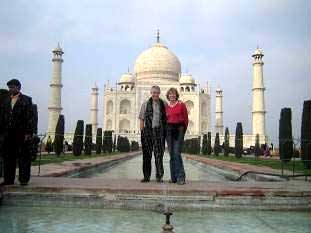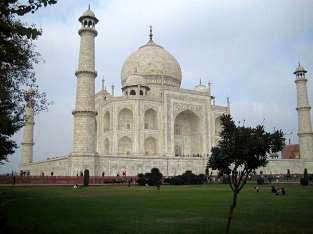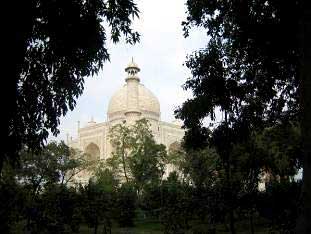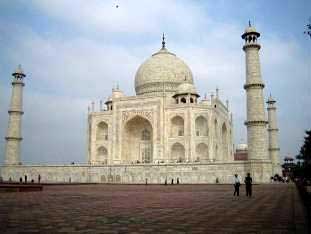 Close up and inside the inner chamber you can see the tombs of the Maharaja's wife in the center, and his to one side. The entire structure was built for his favorite wife (ask me about the Turkish 'Fav' story) and was symmetrical. The Raj intended to build a black version across the river, but his son thought he was balmy and locked him up till he kicked the bucket, then buried him beside his fav wife; thus destroying the symmetry of this amazing place.
Here are some inside shots (the actual tomb is 1 floor down – this one was built because it is again Moslem law for other than close rellies to visit a tomb.)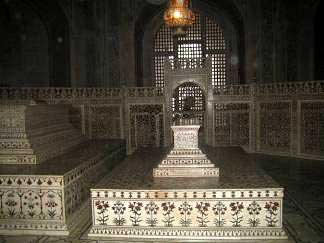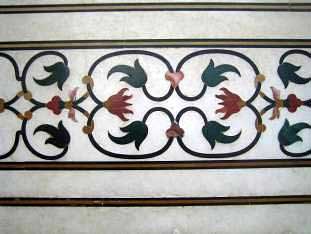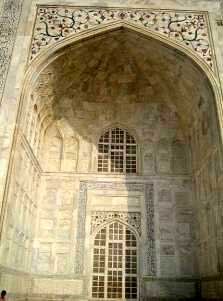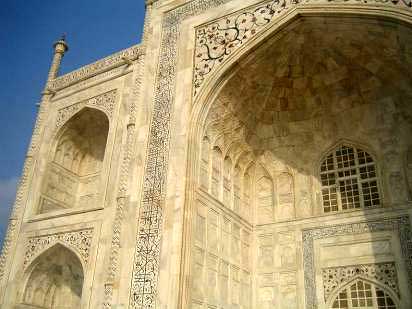 After touring another palace for thankfully just 1/2 and hour, we ate on board the train which had gone a different route to Agra. In the morning we were back in Delhi and headed off to the Taj which was just south of the centre of town. We did quite a bit of shopping there – because Indian women mostly wear sari's, I had a ball – for once I got more stuff than Drena, boy was she put out!!!
The weather was just perfect – cold at the Tiger park very early in the morning, and occasionally a little warm thru the day – as good as it gets though. It was probably lowest of 10°C and highs of 28°C, but 18-22 most of the time.
Related Articles