Diamond Price Chart : Prices Update Monthly
This diamond price chart shows changes in diamond prices over the past few years for different sizes. Note the price dip late 2008 (the economic crisis) and recent stabilization or even rises; diamonds under 4ct never rose as much nor fell as far.
The source is real live market data, as the prices of most of these diamonds are set by Business to Business listings with vendors typically adding 10% or less to the wholesale price. There are more than a dozen different vendors listing over 600,000 diamonds on PriceScope. This diamond price chart is updated monthly.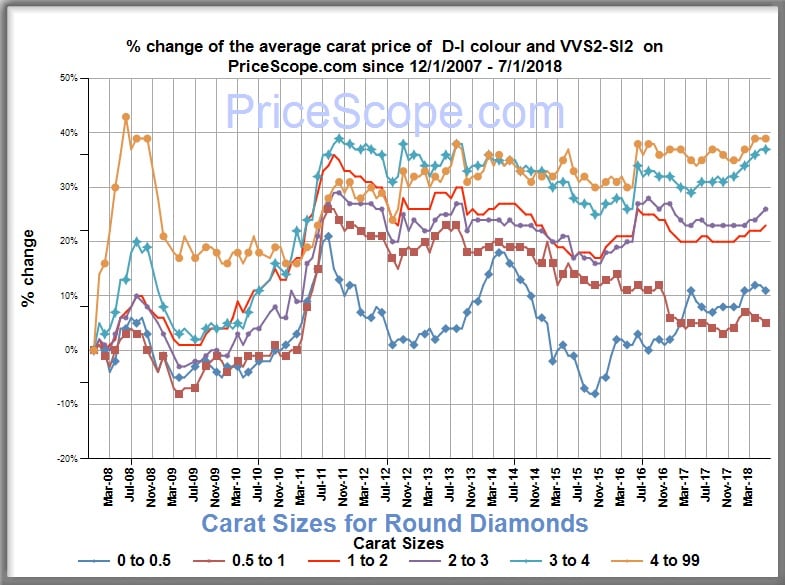 Updated 6/01/2015
Embed the above graphic on your blog:

Updated 6/1/2015: Diamond price changes this month
Diamond Carat Sizes
Diamond Prices Change
0.0 - 0.5
1% decrease
0.5 - 1.0
1% decrease
1.0 - 2.0
2% decrease
2.0 - 3.0
4% decrease
3.0 - 4.0
3% decrease
4.0 - 99
4% decrease
Compare actual diamond prices listed by more than 12 different vendors
.5 Carat diamonds
1 Carat diamonds
1.5 Carat diamonds
2 Carat diamonds
Click on the links above to compare diamond prices for different carat weights.
Related Topics:
Retail Diamond Prices Up Slightly in April 2015
Retail Diamond Prices Rise in March 2015
U.S. Jewelry Spending Is Up, Millennials Buying More Than Any Other Age Group
New Pricescope Diamond Search Features: Wish Lists, Price Alerts, and More!
Retail Diamond Price Statistics
Diamond Prices - Down According to RAP, Up from Vendors?
Diamond prices - will they rise or fall?
How much more for an E? Go ahead, guess.
Price of diamonds?
Price increases?
Prices going up, again!
Price-prediction of Diamonds- Examination of Alrosa Analysis